Greetings…and WELCOME to my new blog Feature – Dear Pole Barn Guru!
Starting today….each Monday I will post questions submitted to me about pole buildings and pole barn construction, products for use in pole buildings, along with my answers.  Scroll to the bottom if you have a burning question for the Pole Barn Guru, and look for the answer in an upcoming Monday segment of Dear Pole Barn Guru.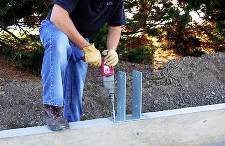 DEAR POLE BARN GURU: Where can I buy the post to concrete heavy duty brackets? – DETACHED IN SOUTH CAROLINA
DEAR DETACHED: There are numerous brackets to attach pole building columns to concrete foundations. We've found only one which is capable of withstanding the moment (bending forces) which are introduced into the building columns by the wind. Contact Eric at Hansen Buildings (866)200-9657 for delivered pricing on concrete brackets.

DEAR POLE BARN GURU: When is the concrete floor installed and by whom?—FLAT IN LIVINGSTON
DEAR FLAT: If the pole building has a door or doors tall enough to get the premix truck inside the building, I prefer to have all of the roofing and siding on. This allows the pour to be done, without the threats of weather (baked by the sun, or whipped by winds which cause curing too fast, or rained upon). If this is not possible, at least have the building roofed, prior to the concrete floor being poured inside a pole building. For some reason, when slabs are poured with only the columns set and the pressure treated splash planks (splash boards) installed, the columns tend to grow bull's-eyes (which are seen only by pre-mix trucks).  More than once, I've had a column knocked out of plumb by a truck during the pour.
 As to whom? I personally have an aversion to finishing concrete. If this is outside of your skill set, most pre-mix companies can furnish a list of finishers who service your area. My recommendation is to always purchase the pre-mix yourself and pay the finisher only for labor. I've seen estimates of 40-50 square feet of finished floor per finisher hour. This feels very low to me, as I know of several finishers who have no problems finishing 800-1000 square feet in a day by themselves.
 While flatwork is hard work, I'd have a hard time paying more than about 50 cents per square foot in labor costs.
DEAR POLE BARN GURU: Are the supports set in or on concrete pilings? – DIGGING IN TEXAS
 DEAR DIGGING: In an ideal scenario, holes are augured into the ground (in most cases a skid loader with an appropriate diameter augur bit will dig them), the pressure preservative treated timber columns are placed in the holes and then pre-mix concrete is poured to flow both below and around the columns. This is going to be the least expensive and most structurally sound scenario. Temporarily nailing a couple of 2×4's horizontally to the post will help to keep the columns at the required distance "floating" above the bottom of the hole until the concrete is set.
Alternatively, the holes could be completely filled with pre-mix and engineered wet-set brackets are placed in the concrete to mount the columns to.
HAVE A QUESTION FOR THE GURU? https://www.hansenpolebuildings.com/ask-the-pole-barn-guru.php