This Wednesday the Pole Barn Guru discusses the possibility of installing solar panels on a pole barn roof, use of a "concrete free" slab, and overhead door post sizes.
DEAR POLE BARN GURU: Can solar panels be installed on a pole barn roof?
JAMES in GREER
DEAR JAMES: Provided roof truss top chord and purlin dead loads have been appropriately adjusted upward to account for weight added by your solar panels, they can certainly be added on a 'pole barn' (fully engineered post frame). We have had numerous clients do just this. For some extended reading please see: https://www.hansenpolebuildings.com/2012/02/solar-panels-2/.
DEAR POLE BARN GURU: On page 32 in the February/March 2022 issue of Fine Homebuilding, is an article entitled "Inside the Concrete-Free Slab," about building a plywood slab-on-grade floor. Are you familiar with this construction method and if so, would it be a possibility for a residential Hansen Building design. RICHARD in LEWISTOWN
DEAR RICHARD: I had not previously seen this as a design solution, however it totally works and we could certainly incorporate it into your new Hansen Pole Buildings' barndominium. I very much appreciate your sharing this article with me (https://www.finehomebuilding.com/project-guides/insulation/concrete-free-slab).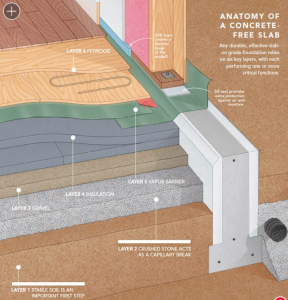 A benefit of a fully engineered post frame building is you do not have to have continuous footing and foundation, even in using this system.
At edges, I would recommend three inches (roughly R-15) of EPS (expanded polystyrene) vertically, on inside of pressure preservative treated splash plank. Top would be set at 3-1/2″ above bottom of splash plank and extended downward two feet (in Climate zones 4 and greater, add an outward horizontal to match Frost-Protected Shallow Foundation requirements).
There are some true beauties to this system – it does away with expensive concrete for slabs, along with near impossible to find skilled concrete finishers. It will be so much easier on knees (mine scream at me when I stand too long on concrete).
Cost-wise, at current plywood prices, it looks like a roughly four dollars per square foot investment for plywood. Under plywood insulation (I would also use EPS) should be same whether concrete or wood.
DEAR POLE BARN GURU: Hello, I have a 24'x36′ pole barn that has one open 12'x24′ bay. I would like to add a garage door on that side. Looking at the closed bay, it seems fairly straight forward on products required. My only issue that I see so far is the 4″x4″ used to support the sides of the garage door itself. The closed bay side has the 4″x4″ inserted into the ground before the cement slab was poured. My only options would be to come up or locate some type of bracket that will screw in securely to the concrete pad or cut the concrete and dig down place the poles, then re-concrete that sections. Do you have any suggestion? Thank you for the help. I have supplied a photo on what I am working with. RONALD in CAMANO ISLAND
DEAR RONALD: Each side of your new overhead door should have a 4×6 column, rather than 4×4. Four inch face should be oriented towards sidewalls. Simpson Strong-tie makes several retrofit brackets – so there will be no need to cut into your existing concrete slab. Check with your local The Home Depot ProDesk as they can recommend an in stock base. Ask for a bracket with a one inch standoff, so you will not need to use a pressure preservative treated column.