Post Frame Insulation in the Hot and Humid South
Reader RICK in LUCEDALE writes: "Dear Pole Barn Guru, I am in the planning stage for designing a post frame house. I live in a "Hot and Humid" climate in the southern US. Joseph Lstiburek, a building science guru, suggests having an unvented roof for my climate zone with the HVAC in the conditioned air space. The metal roof would have a layer of single bubble vapor barrier under it with BIBS insulation installed in the roof purlins. The walls would have a building wrap behind the metal siding and BIBS insulation. The walls would have a vapor barrier between the drywall interior and the insulation. Does the roof assembly need another vapor barrier on the inside? What happens at the intersections between the single layer bubble vapor barrier, the building wrap, and the sub slab vapor barrier? I assume I can use non venting closure strips at the ridge and closed non venting soffits? What size should the purlin be to get an R value of 30+ ? What would be your recommendations? Thanks."
Mike the Pole Barn Guru writes: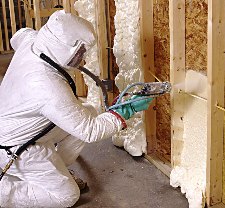 Unless your post frame house will have extremely large purlins, you will not be able to get sufficient depth of insulation using BIBs. Energystar.gov recommends roof insulation values of R-30 to R-60 for your part of the country. BIBs provides an R value of 4.23 per inch, so to achieve a minimal value of R-30 would require at least a 2×8 purlin and would realistically not provide the insulation value I would personally be looking for.
I'd be looking at the use of closed cell spray foam insulation, which would give you R-7 or better per inch of depth. It also completely seals everything, eliminating the need for a reflective barrier below the roof steel. With 2×6 purlins, one could spray eight inches of foam completely filling the space between the purlins as well as covering the underside of them (and the underside of the roof truss top chords).
The goal here is to achieve a complete envelope seal of your building's perimeter. You will not want a vapor barrier between the living space and the attic. The building wrap is not a vapor barrier, it is a weather barrier. The vapor barrier on the inside of the walls should be installed so as to be sealed into the roof plane spray foam and sealed tightly to the slab on grade (although I prefer living over a crawl space).
Soffits should be non-ventilated and closed cell foam closure strips should be used at the top and bottom of all steel panels.