Like a good novelist, I am going to torture you by forcing you to read this story prior to revealing a super- secret answer.
One of our clients will be constructing a Hansen Pole Building in Colorado soon. This particular building is very typical post frame construction as it has steel roofing over open purlins. There is not a "roof decking" of OSB (Oriented Strand Board) or plywood.
When applying for his permit to build his new building, he was told an "Ice Barrier" would be a requirement.
2015 International Building Code deals with a myriad of roofing products in Chapter 15 (check it out yourself here: https://codes.iccsafe.org/content/IBC2015/chapter-15-roof-assemblies-and-rooftop-structures). These include Section 1507.2 Asphalt shingles, 1507.3 Clay and concrete tile, 1507.4 Metal roof panels, 1507.5 Metal roof shingles, 1507.6 Mineral-surfaced roll roofing, 1507.7 Slate Shingles, etc.
Most of these roofing choices list a requirement such as:
"1507.2.8.2 Ice barrier.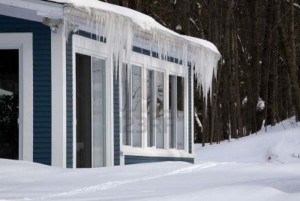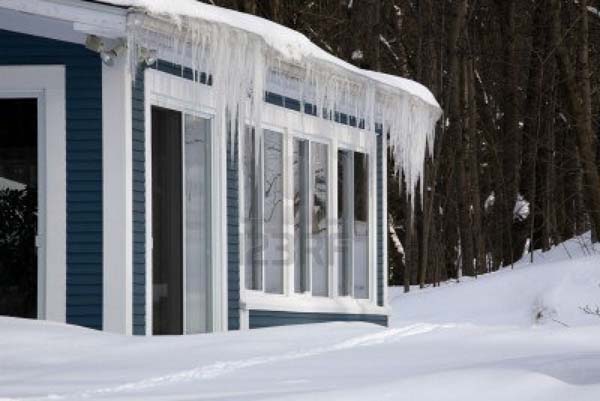 In areas where there has been a history of ice forming along the eaves causing a backup of water, an ice barrier that consists of at least two layers of underlayment cemented together or of a self-adhering polymer modified bitumen sheet shall be used in lieu of normal underlayment and extend from the lowest edges of all roof surfaces to a point at least 24 inches inside the exterior wall line of the building."

IBC 1507.4 Metal Roof Panels does NOT include a subsection for Ice barrier.
Tim Carter of www.askthebuilder.com explains what ice and water barrier is in this video: https://www.youtube.com/watch?v=yVzF5wE3ptc.
Now it is possible for any local permit issuing authority to make amendments to their adopted version of codes. However if my Building Department had such an amendment I would be asking to see it first, then ask how they propose to install it over widely spaced purlins?