A Decked Out Lesson
I keep telling people after over forty years in the construction industry I am still learning new things each and every day.
Today being no exception, I found out things I did not know about decks.
I've spent most of my building career immersed in post frame buildings, which (until the past few years) were rarely used as residences. And, even when they were designed to be dwellings, rarely were they designed with attached decks.
Then along comes the rise of the barndominium.  Read more about barndominiums here: https://www.hansenpolebuildings.com/2016/04/the-rise-of-the-barndominium/
My lovely bride and I happen to live in a post frame building. It has no decks at this point in time. However, the idea has been bandied about in regards to perhaps someday having one which would be located off our living room.
In the 1980's I had a business located on Highway 99E in Clackamas County, Oregon. With this personal history, it was not surprising to me to find myself being schooled by this county's Building Department. This happens to be the very same county which was responsible for the creation of "Arborvitae Green" tree paint (the somewhat comical story is available to peruse here: https://www.hansenpolebuildings.com/2015/06/painting-steel-siding/).
Chapter 16 of the 2014 Oregon Structural Specialty Code gives us this:
"1604.8.3 Decks. Where supported by attachment to an exterior wall, decks shall be positively anchored to the primary structure and designed for both vertical and lateral loads as applicable. Such attachment shall not be accomplished by the use of toenails or nails subject to withdrawal. Where positive connection to the primary building structure cannot be verified during inspection, decks shall be self-supporting."
The International Residential Code (IRC) does not apply to post frame buildings. But because it is a prescriptive code, and does not even mention post frame, it does address the deck to building connection.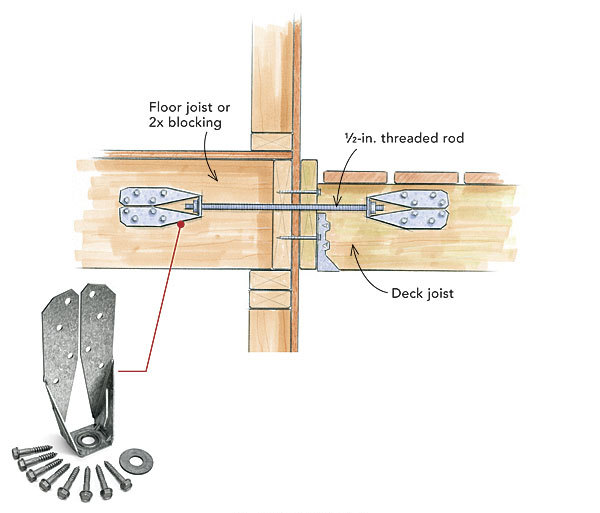 The section from the International Residential Code (R502.2.2) says decks have to be designed for both vertical and lateral loads. This part has been on the books for years and is meant to keep the deck from pulling away from the house. But the 2009 IRC does have a new provision which gets specific about what's required to support a lateral load.
The new code section (R502.2.2.3) states "hold-down tension devices" be installed in at least two locations per deck. Whether you are attaching a deck 3 or 30 feet long, it is required to use the hold-down tension devices in two locations.
Each hold-down device must "have an allowable stress capacity of not less than 1500 lb." The hold-down devices might be tough to find, though, because right now, only Simpson's DTT2Z Deck Tension Tie (www.strongtie.com) meets the design-load requirements.
All non-cantilevered Hansen Pole Buildings' deck designs now include the above mentioned deck tension ties.
Oh, by the way, the plans reviewer did happen to note (in regards to our engineer's deck attachment), "I'm sure his calculations are correct"!