South Dakota Department of Transportation Fabric Covered Hoop Barn
I've been in South Dakota all but a few days in 2016, I figure another 50-60 years or so and I might even be considered to be a "local".
Last Saturday I was a participant in a 5k "fun run" in conjunction with Sisseton's Horse and Buggy Days. Prior to the run, an elderly gentleman came up to me and as we chatted it turns out he has been here for 38 years and still does not feel accepted within the community as being a 'part' of it.
For those who care, "the old Pole Barn Guru" finished third overall in the men's division.
I've had a long term relationship with state D.O.T.s (Department of Transportation) as my long time (but still young) friend Brenda Zuniga worked for ODOT (Oregon Department of Transportation) until her recent retirement. I even played on a team in the ODOT volleyball league!
Well, we had some breeze in Northeast South Dakota recently, some reports of in the 80 mph (miles per hour) range.
While 80 mph is a fairly stiff breeze, it is certainly well within the minimum design wind speeds recommended by the Building Codes.
The South Dakota Department of Transportation (SDDOT) maintains an extensive website with all sorts of wondrous information, data and statistics at www.sddot.com, where those of us who are not born and raised here can become better informed as to what is happening on the highways.
South Dakota has 82,536 miles of roadway – 7,810 miles are state highways maintained by SDDOT and even though it is only 9.5% of the total mileage, the state highway system carries approximately 67% of all vehicle miles traveled.
With all of the miles traveled on South Dakota highways it is imperative the SDDOT is able to function smoothly and efficiently. A part of this is having permanent structures to house and protect vehicles, equipment and materials used to maintain safe highways within the state.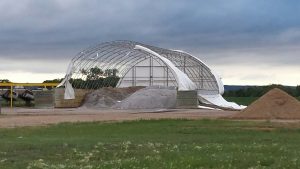 At the Sisseton exit from Interstate 29, SDDOT has several buildings – one less than what was there a week ago. A large fabric covered hoop barn was ripped apart during the previously mentioned wind storm. I've reported before on some challenges involving wind and fabric covered buildings: https://www.hansenpolebuildings.com/2012/05/fabric-covered-building/
If your DOT or Highway Department has the need for a new permanent structure, my encouragement would be to look into post frame (pole) building construction as a method which will deliver the greatest possible value to taxpayers. And unless there is a tornado, it won't blow away.