BIB's Insulation, In-Ground Posts, and Rodents
DEAR POLE BARN GURU: I'm still in processing with the county to get permits for our new Hansen home building but in the meantime I'm trying to figure out insulation for our raised floor. County requirements (I'm assuming IBC code) requires R30 floor insulation. The building floor design wound up using 2×6 floor joists so I'm trying to figure out how to get R30 worth of insulation in a 2×6 joist cavity? I'm planning on either BIBS or blown/dense pack cellulose for the walls and ceiling and there's no problem there, but the floor is an issue. I'd rather continue cellulose or BIBS in the floor but I'm not seeing a clear solution( I can do spray foam if absolutely necessary but I'd really rather not). Do you have any suggestions? LONNIE in COLORADO SPRINGS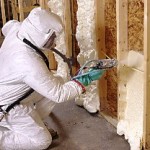 DEAR LONNIE: I know you have read my blogs, so you know I am a huge fan of BIBs, having used the system in two of my own buildings. I previously have had some qualms about the use of closed cell spray foam insulation, however my physics teacher son had good results with it in the remodel addition to his home, so we used it when we added the elevator shaft to the rear of our own home and I am now a convert. You can get R-30 with as little as four or so inches of closed cell spray foam and it absolutely seals up everything.
DEAR POLE BARN GURU: I will be building a post and beam barn (40×48 or thereabout) on my property and would like a central loft that I can finish for additional living space. I have been advised that posts concreted into the ground are unlikely to last but I'm a bit concerned about a two story structure with posts bolted to concrete piers… What would you normally recommend? MIKE in LEXINGTON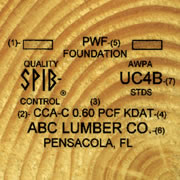 DEAR MIKE: Whoever is giving you the information about the lifespan of properly (key word being properly) treated pressure preservative treated columns not lasting, knows not what they are talking about.
I personally own three multistory post frame buildings, including our home which has 8000 finished square feet and a roof peak 44 feet above the ground. Every one of them has treated columns in the ground.
While columns bolted to piers will work in most situations, why go to the expense and extra efforts?
DEAR POLE BARN GURU: I was wondering if you had any ingenious ideas about how to keep mice coming in from sliding barn doors? We have stuffed steel wool and sprayed foam into the corrugated hollow sections of the walls but they're still able to come in through the gaping hole under the sliding door.  Any ideas how to resolve that? MELANIE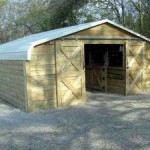 DEAR MELANIE: I always warn people who are planning on using sliding doors – as long as you do not mind your neighbor's cat getting into your building, they are great. No matter what you do with a sliding door, short of affixing it so it will not open, the mice are going to get in. An adult mouse only needs a hole the size of a dime in order to enter your building. By its nature, the sliding door needs to do one thing to function – slide, and in order to slide it has to have space to be able to clear the members which are under it. If your building does not have a concrete slab on grade floor, you could pour a concrete curb across the door opening, however the bottom of the door will still need to be adjusted up high enough to clear the concrete given the fluctuations in expansion and contraction of both the door and the building due to seasonal changes in temperature and humidity.
If you truly want to eliminate the problem, replace the sliding door with an overhead door. In the meantime, it might behoove you to invest in a good barn cat or two.