Sometimes Things Go Tragically Wrong
Construction safety is nothing to overlook. Even the most experienced among us can make errors (read a very personal story here: https://www.hansenpolebuildings.com/2011/07/dont-take-a-fall/)
Tuesday, September 8, 2015 an under construction building in Queenstown, Maryland had some challenges. Here is the story:
"Two construction workers were flown to the University of Maryland Shock Trauma Center in Baltimore for treatment after a building they were working on in Queenstown collapsed Tuesday, Sept. 8.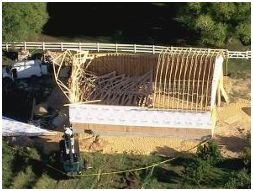 The Queen Anne's County Sheriff's Office, Queenstown Volunteer Fire Department, Queen Anne's County Emergency Medical Services and Maryland State Police MedEvac responded Tuesday afternoon to 201 Overlook Drive, where the floor gave way in a pole barn-type structure under construction, according to the sheriff's office. Five construction workers fell through the floor to the ground, police said.
Police said the structure is believed to be intended for personal use as a barn in a residential area.
 In addition to the two workers flown to Shock Trauma, a third worker was taken by ambulance to University of Maryland Shore Medical Center in Easton. The other two workers refused treatment, the sheriff's office said.
 Maryland Occupational Safety and Health also responded. The scene was made safe by the county contractual building inspector, police said.
 The cause of the accident and the names of those involved were not released on Tuesday evening."
To set the record straight, this particular building, while it may be a barn, is not a post frame (pole) type structure. The building framework is stick frame (stud walls) built upon a poured concrete foundation wall.
What happened here?
I spent a fair amount of my life in the metal connector plated prefabricated wood roof truss industry. Generally, if a truss is going to fail it is due to improper, or a lack of, truss bracing.
(Read more here: https://www.hansenpolebuildings.com/2014/12/temporary-truss-bracing/)
Looking at the photos of this building, nowhere is any diagonal or X bracing evident which would have prevented the trusses from toppling over given the least amount of wind or vibration. I am frankly amazed they were able to get all of the trusses up and in place before the collapse.  The best I can see on the photos is minimal blocking between the trusses, which is totally inadequate given the height and weight of the trusses.
Don't become the next tragedy we read about on the internet. Be safe, be smart, and use sound construction safety practices. And finally, follow sound building principles, thoroughly bracing as you go!