Starting From the Ground Up- UC-4B Treated Columns
Decades ago, when I began training a sales staff for Momb Steel Buildings (my 1990's post frame construction company) I developed an outline we called, "From the Ground Up". Just as implied by its name, this training went through features and benefits of a typical post frame building, starting with ground line and working upwards.
In this and subsequent articles, features and benefits will be described relevant to a typical Hansen Pole Building kit package with double trusses placed upon widely (most commonly every 12 feet) spaced columns.
FEATURE: Structural building columns pressure preservative treated for in-ground use.
BENEFIT: Pressure preservative treated to a UC-4B rating, these columns are warranted against decay for as long as you are building owner!
WARRANTY INFORMATION HERE: https://www.hansenpolebuildings.com/pole-building-warranty/ and https://www.hansenpolebuildings.com/images/warrantylarge.gif
EXTENDED READING ABOUT THIS SUBJECT: https://www.hansenpolebuildings.com/2017/12/will-poles-rot-off/ and https://www.hansenpolebuildings.com/2012/10/pressure-treated-posts-2/.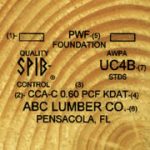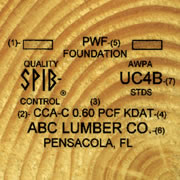 WHAT OTHERS DO: Hansen Pole Buildings provides post frame building kit packages in all 50 states, so we know how difficult obtaining properly pressure preservative treated columns can be. Many local lumberyards and even big box lumber dealers inventory pressure treated columns rated for "Ground Contact" rated only to a UC-4A level of chemical retention. They can't be used structurally in-ground according to Building Codes!

Speaking with these providers and being told 'everyone' in their area uses UC-4A rated columns for post frame buildings adds to frustration levels!
WHAT WE DID IN 1980: Lucas Plywood and Lumber was providing ungraded 6×6 columns pressure preservative treated to .60 pcf (pounds per cubic foot) or refusal with CCA. The catch in this was "or refusal" meant there was a lot of CCA untreatable lumber (primarily Douglas Fir) was being sent to treatment plants. Being unable to take a CCA treatment and was, for practical purposes, merely painting lumber green with chemicals!
An excellent article written by Sharon Thatcher editor of Rural Builder magazine about Pressure Treatment Beyond CCA can be viewed here: https://www.hansenpolebuildings.com/2016/01/pressure-treatment-beyond-cca/.