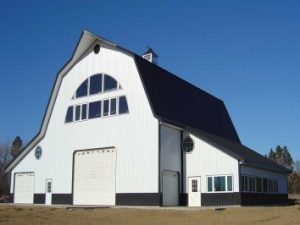 The gambrel roof is characterized by two slopes on each side, with a shallow upper slope and a steeper lower slope. This is the style of roof you'll see on many traditional barns, but a building with a gambrel roof doesn't just have to be used for hay storage or livestock. Gambrel roofs are a popular pole barn choice for residential and commercial pole buildings, and it's not hard to see why. Below are 4 reasons why the gambrel roof is such an attractive pole barn option.
It has historical appeal. Gambrel roofs can be found on many Dutch Colonial and Georgian style homes, and even when you use this roof style on a modern building, you can give the building a historical feel. If you want a pole barn home or retail space with a classic, traditional look, you should consider choosing a gambrel roof.
You'll have lots of headspace. Because of the steep lower slopes, gambrel roof pole barns allow for high ceilings. This is ideal if you plan to use your pole building for storage and want to add a second story to give yourself more floor space. It can also be great if you plan to use the pole building as a residential space; you could use the second level as a loft, attic, workspace, or guest bedroom. Some families even decide to use the first floor of their gambrel roof pole barn for storage and the second floor as a full living space, complete with kitchen, master bedroom, living room, and bath.
You can add custom-designed windows. The style of the gambrel roof leaves plenty of room to add windows on the end walls, and you can really put your stamp on the building with custom-designed windows. Choose classic dormer windows, opt for large half-circle windows, or go with another specialty window shape—there are plenty of options that work with the gambrel style.
Gambrel roofs are simple to frame. Pole buildings are popular in part because they are easy to construct, and gambrel roofs keep that construction relatively straightforward. Most gambrel roof pole barns use combination truss and rafter design, making them really no more difficult to install than a standard gable roof. And when you choose a gambrel roof pole building kit from Hansen Pole, you'll receive detailed step-by-step instructions to make the construction process even easier.