Proper Foundation and Slab, Two-Story Buildings, and Door Parts
DEAR POLE BARN GURU: Dear Sir, I read the details of pouring a concrete slab after building the barn. I live in Montana with some pretty cold winters. If I were laying a slab for a conventional stick built structure i would be required to dig footings 48" deep all around the perimeter. What should I do if I am building a pole barn? While I may supply low level background heat I would like a construction that does not require it to resist Montana winters.
Regards, DEREK in KALISPELL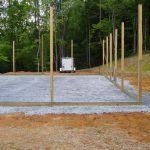 DEAR DEREK: Regardless of the type of construction used, the success or lack thereof for your slab is going to come from what you do underneath it, as well as grading the site properly to keep water from pooling below it.
Follow along first by reading my series of articles devoted to site preparation which begins with: https://www.hansenpolebuildings.com/2011/11/site-preparation/.
You will want to have your building site graded so as there is a 5% slope away from the building, when completed.
Now the fun part – protecting your building itself. I've become an advocate for Frost-Protected Shallow Foundations. Here are a couple of articles which should get you heading in the right direction: https://www.hansenpolebuildings.com/2016/11/frost-protected-shallow-foundations/
and https://www.hansenpolebuildings.com/2017/09/post-frame-frost-walls/.
DEAR POLE BARN GURU: Do you offer 30 x 40 2 story apartment/garages?? ROB in ALPINE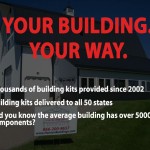 DEAR ROB: We offer any dimension of footprint you desire, not just 30 foot width by 40 feet long and would encourage you to look at what works best for you in an internal layout, then create the exterior dimensions which best fit your interior needs. Two and even three full or partial stories can easily be done with post frame construction and if your zoning allows the overall height and you are willing to add sprinklers, you could go four stories.
Your mixed use will probably result in having to at least one-hour fire separate the apartment from the garage. This could include having to protect the stairs, if they are interior, as well as to provide clear protection all the way to the outside world. A discussion with your local planning and zoning friends could provide you with added insights.
DEAR POLE BARN GURU: Do you have available, either metal or wood, a barn door and hardware for an opening 8′ high and 5′ wide, to be placed within a screen porch (the entrance to the garage)? TRISH in WIMBERLEY
DEAR TRISH: Thank you for your interest. Due to shipping challenges, we now only provide barn doors along with the investment into a complete post frame building kit. You might try contacting the ProDesk at your local The Home Depot®.