DEAR POLE BARN GURU: 34'x44′ pole barn middle is 20′ high and 14′ wide, the 2 outside parts are 10′ high by 10′ wide, frost level is 48″, snow load is 40lbs per sqft poles will be 6×6 what kind of footings will i need to have to support this building? MITCH in KAWARTHA LAKES
DEAR MITCH: The question would be best asked of the engineer who designed your building as there are innumerable factors which are going to influence the size of the footings. These include (but are not limited to) the allowable bearing pressure of the soil at the site; will the building be constrained by a concrete slab on grade; the wind speed and wind exposure; dead loads – actual building weight which will be transferred to each column; will there be a second floor or loft in a portion of the building (like the raised center)? What will be the spacing of the columns?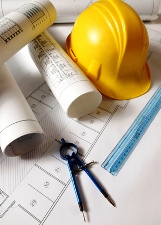 When clients invest in a new Hansen Pole Building, all of these factors are taken in consideration by our proprietary Instant Pricing system and included on the engineer sealed building plans and the supporting calculations.
In the event an engineer did not happen to design your building, it would behoove you to hire one to at least properly design the footings for you, if not the entire building. With a 40 psf (pounds per square foot) snow load, both drifting and sliding snow must be accounted for to prevent a catastrophic failure.
DEAR POLE BARN GURU: I am a high ropes builder and I have a camp that is on a tight budget but needs a new 30′ long balance beam for their high ropes course.
Question: Can you source such a pole for them or lead me to your supplier? I hope that is not 2 questions! 🙂 SHAWN in NASHVILLE
DEAR SHAWN: I have a client, whom I built a building for back in the 1990's, who has become a good friend. He operates a high ropes course just north of Spokane, Washington: https://adventuredynamics.com/.
In answer to your question(s), since you are from Indiana, I would recommend contacting Stark Truss as they manufacture glu-laminated beams and columns which should be both affordable and straight. Here is the information on them: https://www.starktruss.com/products/perma-straight/.
DEAR POLE BARN GURU: Considering using a pole barn as the base structure for an airplane hangar, do you have the ability to customize a 40X60 barn to allow a large door opening of 40X10 and possibly hang a bifold door on it. MIKE in STEVENS
DEAR MIKE: Post frame buildings make excellent airplane hangars. We can customize virtually any building to accommodate a hangar door. Here is some reading about airplane hangars: https://www.hansenpolebuildings.com/commercial-buildings/airplane-hangars/.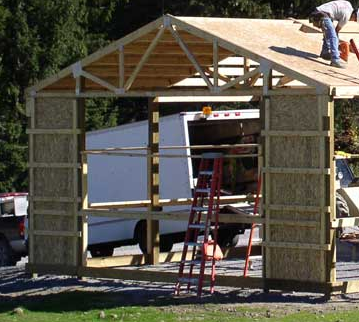 Ideally, if you are planning upon placing the door in a 40 foot endwall, there would be several feet of wall left at each of the corners in order to most economically transfer shear loads to the ground. A 40 foot wide bi-fold door will also not fit on a 40 foot wall. (example of Endwall Shearwall)
We would need to have the specifications of your proposed bi-fold door, in order to properly design the end of your hangar to support the door.
See bi-fold door information here: https://www.hansenpolebuildings.com/2015/02/hangar-doors-2/.