Proper insulation provisions seem to be one of the least considered items when it comes to post frame (pole building) planning.
Here is a case in point from reader JOHN in BEND:
"We have just built a 32' x 48' pole building with commercial GIRT construction, metal siding, 4/12 pitch metal roof, concrete floor, 12 ft ceilings located in the high desert region of central Oregon.  The building will be used as a training center for a sport shooting club, and only occasionally occupied/heated.
We plan to insulate the walls and (flat) ceiling with R19 fiberglass batts and cover both walls & ceiling with 5/8" drywall.  We have some questions/concerns about adequate venting for the attic area above the ceiling.  We had a vent-a-ridge installed along the entire length of the building (48ft which will provide about 5 sq ft of roof ventilation).  We are now installing 4″ round soffit vents to match the 5 sq ft ridge vent to provide airflow.  We had also planned on installing styrofoam soffit/rafter baffles to ensure the fiberglass batts didn't block the natural airflow from the soffits.  Then we noticed that the purlins run horizontally very near to the soffits.  The styrofoam baffles appear to be designed for vertical facing rafters that will naturally channel air up towards the vents.  Now we are wondering if styrofoam baffles (and our venting scheme in general) will work properly and whether we need to also install gable end vents.
Thanks for the help. We are a volunteer organization and just don't have the construction expertise."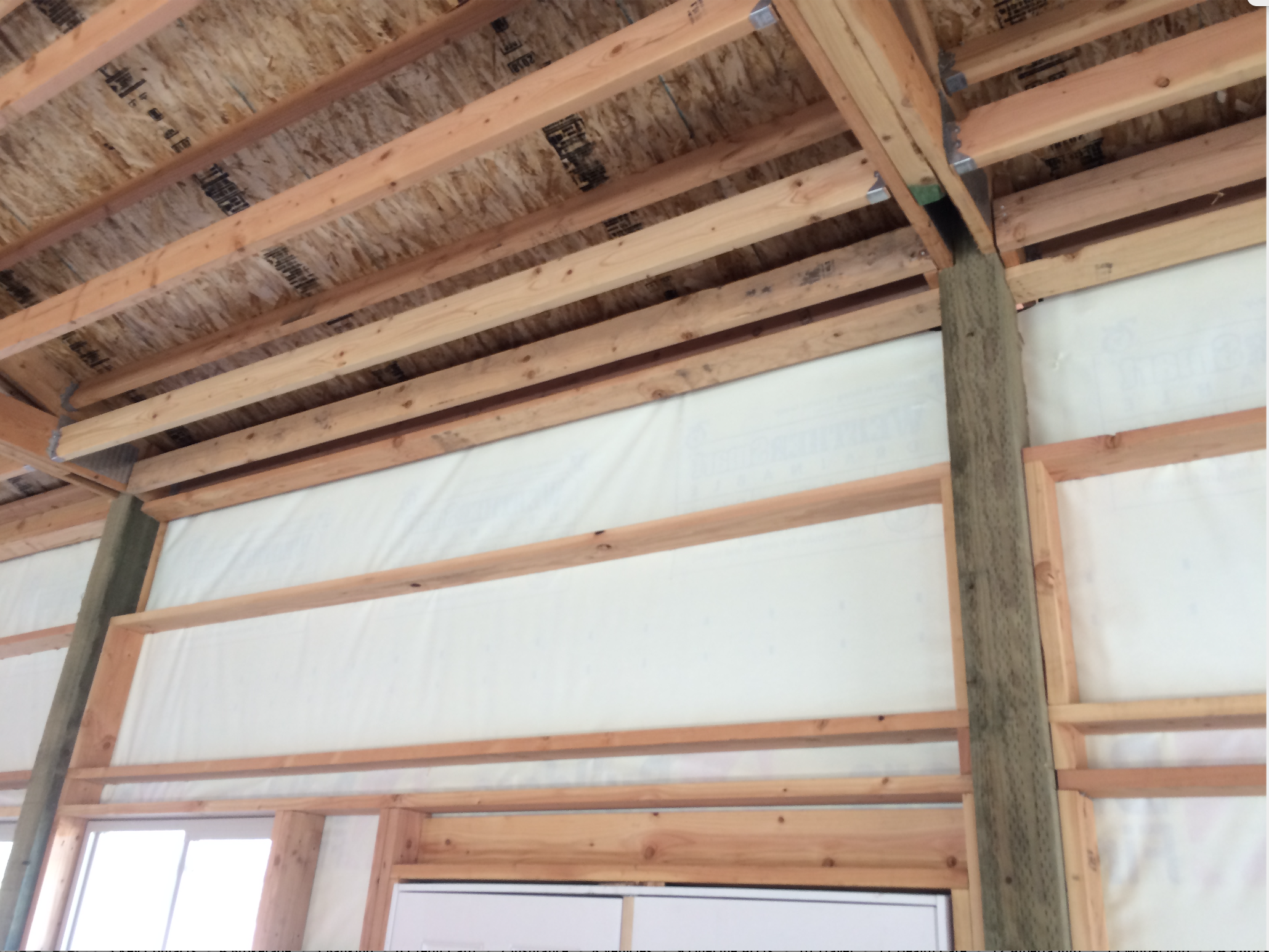 From your photo, it appears the ceiling joist closest to the inside of the wall is a 2×6 with airspace above it. If so, your R-19 batt insulation will still have airflow above it. The baffles you invested in should be returned for credit, as they are not applicable for a post frame installation with widely spaced trusses. 
Now your true challenge, R-19 insulation is woefully inadequate for your location. Your attic should have at least R-49 (https://www.energystar.gov/index.cfm?c=home_sealing.hm_improvement_insulation_table) which would be about 16″ of blown in insulation.

Normally I would recommend to clients to have raised heel trusses to allow for full insulation thickness. In your case, I would recommend the area in the three to four feet closest to the sidewalls to be insulated with closed cell spray foam on top of the ceiling, to the thickness of the ceiling joists, then blow in fiberglass for the balance of the attic. Do not use faced batt insulation.