Will My Minnesota Shouse Require Frost Footings?

Reader CHAD in JANESVILLE writes:

"I am planning on building a shouse or barndominium some may call. I am doing 5″ cement with a heated floor throughout. My hope was not to bury any poles but to anchor them on top of the slap. Do you recommend front footings or will I be same as long as I am heated?"

My lovely bride and I happen to live in a post frame shouse just four hours West of you (and you are welcome to come for a visit)! In our instance, we used embedded columns, as I fully believe they will outlive my grandchildren's grandchildren (for reading on lifespan of properly pressure preservative treated wood https://www.hansenpolebuildings.com/2020/09/pressure-treated-post-frame-building-poles-rot/).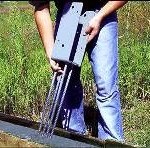 Now we do have a fair number of clients using wet set brackets, keeping their building columns above ground (https://www.hansenpolebuildings.com/2019/05/sturdi-wall-plus-concrete-brackets/).
These brackets need to be either placed into a continuous footing and foundation system, a thickened edge slab on grade or concrete piers. Any of these should extend below frost line, unless provisions are made to thermally isolate them from effects of frost.

The U.S. Department of Housing and Urban Development Office of Policy Development and Research has been so kind as to publish a plethora of information on Frost-Protected Shallow Foundations, (while not specific to post frame construction) would apply to any structural building system. Heat transfer truly doesn't care how you put a structure together, just so long as thermal resistance issues are taken care of adequately.
Those who are considering Frost-Protected Shallow Foundations should peruse this information: https://www.huduser.gov/publications/pdf/fpsfguide.pdf, and utilize it to determine requirements for insulation R values, as well as depth vertical insulation boards should be placed and width of horizontal insulation extending out from your building.

Whatever your choice is, you should have structural plans sealed by a Registered Professional Engineer to verify system adequacy.