What I Would Have Done Differently With Our Gambrel Barndominium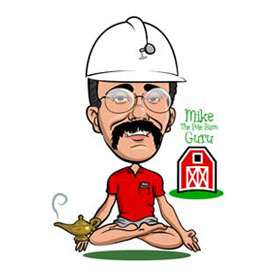 When we built our gambrel roof style barndominium 15 years ago we were in a position financially where we could have done most anything we wanted to. Our property was over two acres in size, so available space was not a determining factor. After having lived in it every day for going on four years, I have realized there are some things I would have done differently. For sake of brevity, I will only discuss main clearspan portions of our barndominium (it has 18 foot width sidesheds).
Footprint
Our center portion is 48 feet in clearspan width and 60 feet deep. Whilst this sounds really big, I wish we would have gone 60 feet wide and 72 feet deep. There is just never enough room and a portion of our half-court basketball court has been taken up with a workout area. Start parking a few vehicles inside and even smaller grandkids are looking for space to dribble and shoot the basketball.

Downstairs Height
16 foot high ceilings might seem like a lot. Doing it again I would go to 20. Makes playing basketball easier for those three point shots. At 20 foot, ceiling would not have been perfect for volleyball, but it would have made a serviceable practice are (given a larger footprint): https://www.hansenpolebuildings.com/2013/09/pole-barn-11/.
Floor Trusses
Yes we could have spanned 60 feet, we just would have had trusses about five feet in thickness. I would have specified a lesser deflection than our current L/360 however (read about floor deflection here: https://www.hansenpolebuildings.com/2015/12/wood-floors-deflection-and-vibration/). I also would have installed a diagonal (top chord to bottom chord) bracing system every 12 feet along building width, tying three trusses together across four feet. This would have further reduced deflection by spreading loads across a wider portion of the floor system.
Knee Walls
Our gambrel trusses are set directly at floor level. In order to have some semblance of sidewalls, we placed a knee wall in four feet from each side, reducing our usable width to 40 feet. While this made our space more functional, ever try to hang pictures on a four foot tall wall? Doing it again, I would opt to raise trusses up either four or eight feet above the floor level. Latter of these would have given wall to wall usable space as well as a more standard wall height.

Upstairs Ceiling Height
We have a 16 foot high ceiling now. While this works, it does make for a short ceiling in my wife Judy's craft/sewing loft above a portion of our master bedroom. With a 60 foot span, we could easily have had 10 foot ceilings both above and below the loft. Of course Judy would have had to have found a 20 foot tall Christmas tree! (and she would!)
Whatever size barndominium you decide to construct – it will not be large enough. At a minimum I would encourage going no less than 10% greater in space than you think you need. Ready to get serious about planning your new barndominium? Call 1(866)200-9657 to get started now!