ASCE/SEI 7 Minimum Design Loads for Buildings and Other Structures
The times, they keep a changing, and as they do Building Codes and Building Design becomes increasingly more complex. My long time readers have read my preaching about why all buildings should be designed by Registered Design Professionals (RDP – architects or engineers) to insure new construction meets with the requirements and provisions of the Code.
The 2016 edition of ASCE Minimum Design Loads and Associated Criteria for Buildings and Other Structures will be available in early 2017. This edition provides the most up-to-date and coordinated loading standard for structural design. Also with improved coordination and routine updates, ASCE 7-16 includes many significant changes.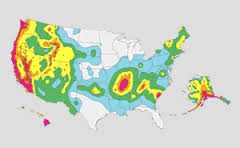 New seismic maps reflect the updated National Seismic Hazard Maps, including requirements for the region surrounding Las Vegas, Nevada, to address local concerns. The basis for the increase was developed and supported by the State of Nevada Geologist's office.
New wind speed maps which result in reduced wind speeds for much of the country and clarify the special wind study zones, including new maps for Hawaii. Also new maps for Risk Category IV separate from Category III.
In my humble opinion, the wind speeds expressed in ASCE 7-10 were at times unrealistically high in comparison to actual historical measures. This resulted, in some cases, in added expense to new building owners – which they were not given a choice in accepting or declining.
New regional snow data generated by state Structural Engineers Associations in Colorado, Oregon, New Hampshire, Washington and other mountainous states, which is now directly referenced and eliminates many, older site-specific Case Study zones.
New provisions for performance fire design.
An entirely new chapter with tsunami design provisions, which is important to west coast states, Alaska and Hawaii.
Full coordination with referenced material standards within ASCE 7-16, to ensure they are the same as those which will be referenced by the upcoming 2018 International Codes.
Consistent with revisions to all editions of the ASCE 7 standard, some of the revisions will cause increases and some will cause decreases in the cost of construction for an overall project. In fact, the variability of the impacts on construction resulting from different hazards may be compounding or may negate the effects. The cost impact for each significant change to ASCE 7-16 has been considered.
Please keep in mind, all versions of ASCE 7 and the International Building Codes are establishing minimum requirements for structural design. It is this author's recommendation to always err on the side of caution when selecting criteria for climactic loading. Often increases can be made in design loadings with little or no cost to the overall building project. Those contemplating a new post frame building are best to inquire as to the extra investment (if any) to design for greater loads.