DEAR POLE BARN GURU: Can you supply me with a copy of the sparrow barn in Texas plans It is a wedding venue I would like to copy. JAMES in HAMPTON
DEAR JAMES: Certainly we can, stamped by a registered professional engineer, and custom designed for your climactic loads – and for free. They come along with your investment in a new Hansen Pole Building complete kit package.
DEAR POLE BARN GURU: I built a 40x60x14 pole barn, trusses 4'oc, cement floor with seal, foil bubble wrap outside all girts and purlins, vented soffits and continuous ridgevent. Trusses have 5psf bottom cord rating. I have read all the posts of yours I could. Would like to put in 24×40 apartment and was looking to put in BIBS insulation with horizontal bookcase framing but ran into a few questions. I'm concerned about drywall cracking/nail popping if I strap bottom truss cords and apply drywall to that. If I drop the ceiling, however, I'll have to do vertical studs for the ceiling joists to sit on. I see a problem with fireblocking too. How best do you fireblock behind posts (between girts) with bookcased studs? Vertical studs would be even more difficult to fireblock, with 1.5 inch gaps everywhere. Last question is insulation…..With the impermeable foil bubble wrap up against the steel siding, I was going to use the mesh fabric and BIBS only before drywall. I'm concerned about a vapor barrier against drywall as this will primarily be used in summer with a/c on the interior and an outside humid climate. I appreciate any help and advice. MARCUS in ROANOKE
DEAR MARCUS: I appreciate you being a loyal reader!
You will want to place 2×4 ceiling joists on edge (two inch face towards the floor and sky) every 24 inches between the truss bottom chords, using Simpson 2×4 joist hangers on each end. With 5/8″ gypsum wallboard, screwed on per the manufacturer's installation instructions, it is unlikely you will experience unusual drywall cracking or nail popping. Properly done, your bookcase studs (wall girts) should be supporting the siding on the outside and drywall on the inside. Installed this way, they effectively serve as fire blocking. In the event your building has "barn" style wall girts (flat on the outside face of the columns), use bookshelf girts of a large enough dimension to reach the siding, as well as extend to at least the inside face of the columns (e.g. 2×8 on a 6×6 column).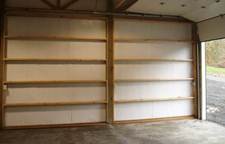 There is going to be a challenge on the walls….your building should actually have building wrap on the outside of the framing to allow any water vapor in the wall cavity to escape to the outside world. The wall vapor barrier should be on the inside face of the wall girts to prevent moist air from inside of your apartment from entering the wall cavity. The reflective insulation in your walls should be either removed or at the very least punctured frequently, prior to wall insulation being installed.
DEAR POLE BARN GURU: I am installing shutters on my home, which is a barn style home with metal siding.  My husband is very concerned about which type of screws to use to prevent leaking or rusting.  What do you suggest? AMELIA in HONEA PATH
DEAR AMELIA: Builders Edge Shutter-Lok patented fastening system makes installation fast and easy. Shutter-Lok holds in any material. Shutter-Lok features a durable copolymer construction with molded-through color so that there is no paint to ever scratch, flake, or fade. Installation requires drill with 1/4″ masonry bit.