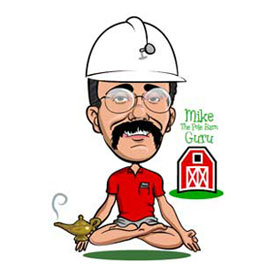 Welcome to Ask the Pole Barn Guru – where you can ask questions about building topics, with answers posted on Mondays.  With many questions to answer, please be patient to watch for yours to come up on a future Monday segment.  If you want a quick answer, please be sure to answer with a "reply-able" email address.
Email all questions to: PoleBarnGuru@HansenPoleBuildings.com
DEAR POLE BARN GURU: I am in need of a repair to our pole building, a windstorm knocked a tree on to the building and I've contacted the insurance company and I need to get estimate for the repair. PATRICIA IN BELFAIR
DEAR PATRICIA: We are not contractors in any state, so we would not have the ability to do the repairs, although it is possible we could provide you or your contractor of choice the needed materials. You might want to check with the "Pro Desk" at your local The Home Depot® as the often know of contractors who would specialize in this type of work.
DEAR POLE BARN GURU: I recently built a 24X40 pole barn with an 8 foot lean-to off one side (8X40). It has the roof vent and soffit vents, with PRODEX as the vapor barrier only on the roof. It's time to insulate the interior structure to use as a workshop. I'm leaning toward 1 1/2 inch blue board between the purlins covered with OSB and blown insulation in the ceiling also using OSB. The other option is installing batts with traditional insulation but I'm concerned about moisture between the wall insulation and metal. Is that a significant worry? Any help would be great! Thanks! JAMES IN MANISTIQUE
DEAR JAMES: Commonly referred to as "blueboard" for its light blue color, STYROFOAM™ Brand Insulation products are manufactured by Dow™. It is designed primarily for residential applications, where it can be applied to the exterior of framed walls. A 1-1/2 inch thickness will provide approximately an R-9 insulating value.
Cutting the STYROFOAM™ to fit between the wall girts is several things – among them are very time consuming and not overly efficient as an insulator. Why not overly efficient? Because the R-value of all of those wall girts is right about 1.5. And an insulated system is not the average of high and low, it is weighted towards to weakest link in the chain. The net might be somewhere around R-3. Big investment for low return.
Most jurisdictions require any foam insulation boards to be covered with gypsum wallboard on the inside, as it may otherwise be a fire hazard.
I'd recommend using either batt wall insulation (it is manufactured in 92 inch wide rolls specifically to fit between columns eight foot on center) or BIBS® (https://www.hansenpolebuildings.com/2011/11/bibs/).
As long as you have done a good job installing the siding, so it is leak free, and a vapor barrier is properly installed on the inside of the wall, moisture between the wall insulation and metal should be a relative non-issue.
DEAR POLE BARN GURU: I want to build a 60 foot x80 foot+ building, with one side open. Is there a way to have one bay with a 32 foot opening (sidewall post spacing)? The others would be 12 to 16 foot on center. JASON IN ELLSWORTH
DEAR JASON: It is most possible to do openings of 32, 40 or even 60 feet in width along an eave sidewall.
For practicality purposes, I normally encourage clients to try to place large openings in endwalls. As the endwalls can be spanned with a roof truss, structural headers do not have to be supplied to carry roof loads. Located as such, will also tend to minimize the effects of weather, as any rain water or snow melt commons off the roof on the eave sides.
In a sidewall, large door openings can easily consume about an inch of depth for every foot of opening span. Headers for these openings are most commonly either LVLs (https://www.hansenpolebuildings.com/2013/01/lvl/) or parallel chord steel connector plated wood trusses.
Assuming the critical dimension is the height of what is being placed through the door opening, the building may need to be several feet taller to accommodate your sidewall opening placement.