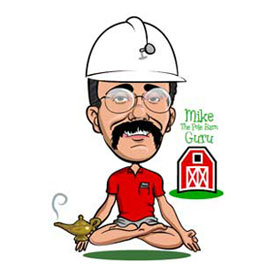 Welcome to Ask the Pole Barn Guru – where you can ask questions about building topics, with answers posted on Mondays & Saturdays.  With many questions to answer, please be patient to watch for yours to come up on a future Monday segment.  If you want a quick answer, please be sure to answer with a "reply-able" email address.
DEAR POLE BARN GURU:  How well do pole barns withstand a major earthquake? JOHN IN GRAND RONDE
DEAR JOHN: Very well. Perfect timing with your question, as I've recently written an article which addresses this very subject:  https://www.hansenpolebuildings.com/2015/10/a-whole-lotta-shakin-going-on/
DEAR POLE BARN GURU:  2 questions. I'm looking at a new project. I'm looking for a 2 story 24′ deep by 42′ long building. 10′ ceiling down stairs, typical office ceiling height upstairs. Is this building possible? Also, my lot is on a slope. Can your buildings be put on a full foundation so I can take care of the grade issues? DAN IN NEWFIELDS
DEAR DAN: You proposed building is entirely possible. For practical purposes, the limitation (without sprinklers) for post frame buildings is 40 foot tall walls and/or three stories, whichever comes first. Your needs are well within these parameters. Your second floor should be designed for a live load of 50 psf (pounds per square foot), rather than the residential load of 40 psf.
Our post frame buildings can be on either a full or partial foundation. You can read about my own adventures in grade change and foundations here: https://www.hansenpolebuildings.com/2012/02/grade-change/
DEAR POLE BARN GURU:  Does your design meet snow load requirements in Kremmling Colorado? In Breckenridge, Colorado? RON IN KREMMLING
DEAR RON: Our post frame buildings can be designed to meet or exceed the snow load requirements of any jurisdiction, anywhere on the planet.
At Hansen Pole Buildings, we do require our clients to confirm the Code and loading requirements which apply to their particular building site. Our system does have data from the great majority of Building Departments, however requirements are frequently updated, and small changes in elevation above sea level can greatly effect snow load requirements.
Regardless of whom an individual is considering investing in a building with, it is only prudent to spend a few minutes to acquire this data.
The questions to get answered can be found here: https://www.hansenpolebuildings.com/2013/01/building-department-checklist/ and https://www.hansenpolebuildings.com/2013/01/building-department/