DEAR POLE BARN GURU: Hi, do you sell pole barn plans without material kits? I'm interested in pricing a set of plans from you and procuring my own materials. If that's a service you can provide please let me know. I'm looking to get a plan set for a 40'x45′ pole barn.
Thank you, DAMIEN in PORTLAND
DEAR DAMIEN: Here is an article with all of the information you will need: https://www.hansenpolebuildings.com/2017/06/pole-building-plans-sale/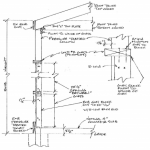 DEAR POLE BARN GURU: my side wall columns are 4 ply 2×8's and are a little over 7″ deep. My commercial girts are 2×10's(9.25″). The girts are extended past both the skirt board and the 2×4 at the top of the wall by 2.25″-1.5″=0.75″.> How is this supposed to work? RICK in LUCEDALE
DEAR RICK: Place the girts so the outside of the girt is 1-1/2″ past the columns, any excess will be to the inside. When you sheetrock, the drywall will be attached to the girts and go right over the columns. See Chapter 29 of the Hansen Pole Buildings Construction Manual, most common mistake #4.
DEAR POLE BARN GURU: Does a residential pole barn home require exterior and roof sheathing? And if not required, would you recommend osb or plywood sheathing?
Thank you, JOE in SANDY RIDGE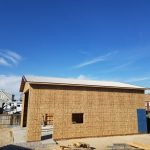 DEAR JOE: If the siding and roofing are both roll formed steel panels, then no other sheathing would be required, unless the load situation is such as to require sheathing under the steel for shear resistance purposes. You should, however, be using Building Wrap under the wall steel and make some sort of provision for condensation control under the roof steel (either a radiant reflective barrier, sheathing with 30# felt, Condenstop/Dripstop or closed cell spray foam as examples).
As far as product – unless you are counting upon the sheathing being the holding point for the screws, OSB will do everything you need it to do.