40' x 60' Used Pole Building – $14000 (Silverton)  SERIOUSLY?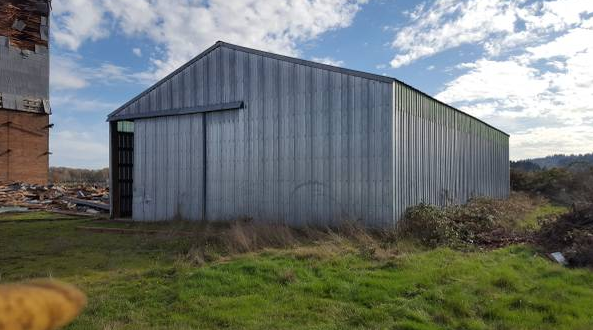 The following ad appeared in the Salem, Oregon Craigslist December 6, 2016 in for sale > farm & garden – by owner:
"I have a nice fully enclosed 14 foot tall pole building. It is fully disassembled and ready for transport. All the metal is fully galvanized. The building has a clear span with 4 double trusses and framed ends."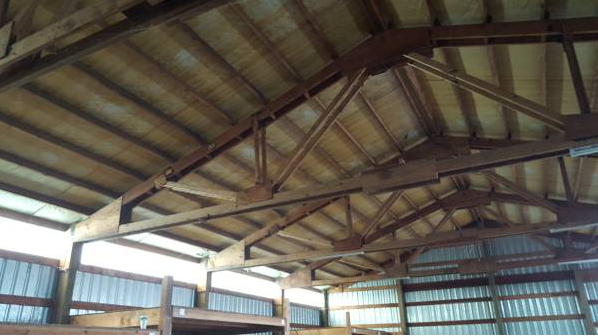 Now, the ten top reasons why buying this used pole building would be so wrong:
#10 It is all galvanized steel – generally most folks do not find this to be aesthetically pleasing!
#9 You are going to have to pick it up and transport it – plan on a semi pulling at least a 40 foot long trailer, because those trusses are 40 feet long! Might be handy to have either a boom truck or a forklift there to hoist everything onto the trailer;
#8 And unload it when it gets to your site – some offloading equipment could be handy here;
#7 It isn't designed to current Building Codes – so you cannot get a permit to erect it – Oregon DOES have an agricultural exemption which you might qualify for. Don't even consider putting it up without a permit unless you are 100% certain it is exempt;
#6 The wall girts flat to the wind on the outside of the columns – they will overly deflect (again not meeting the Building Code);
#5 Plywood gussets on the trusses – even if your seller has the engineered drawings for them, they are not going to meet the current Building Code;
#4 There is no lateral truss bracing – as the trusses are on each side of the columns are acting as single trusses. At a bare minimum, they will need a row of 2×4 "T" bracing no more than 10 feet on center;
#3 The wood framed sliding door is going to be heavy – and it probably has square barn door tracks. You may want to replace it with a steel framed sliding door and a round track so it is light enough and easy enough to roll open and closed;
#2 Sure hope you can get all of the steel back in the exact same places – because if you are unable to, there is a good chance you will experience roof leaks;
And the #1 reason – For about $3,000 more, you could get a brand new post frame building designed to meet the building code, with all new materials, delivered to your site, with all colored steel roofing and siding PLUS engineered plans!