Temporary bracing in post frame buildings come without a prescription – there is nowhere which spells out "do it this way and all will be good". There are some things which can be done to minimize the potential of mishaps similar to the one in the photo.
Buildings in their framing stages are the ones which are most vulnerable to wind forces. Once the roofing is properly installed, everything is tied together and works as a unit, rather than as independent and unrestrained pieces.
I'd been involved, to some extent, in two similar situations with large clearspan buildings, all or partially framed up, and high winds.
The first was when I was selling post frame building kits for the long defunct Mac Truss Company in McMinnville, Oregon. Our builder client had framed up a 60' wide 22' eave hay barn which the wind unceremoniously planted on the ground.
The second was not the Wreck of the Edmund Fitzgerald, but it went down as fast (read more of the story here: https://www.hansenpolebuildings.com/2014/03/wide-span-trusses-2/).
The building under construction in the photo is 80' wide by 240' long with an 18' eave height. Along one side of the building is a 36' wide shed row which sloped from the 18' eave down to 9' at the low eave.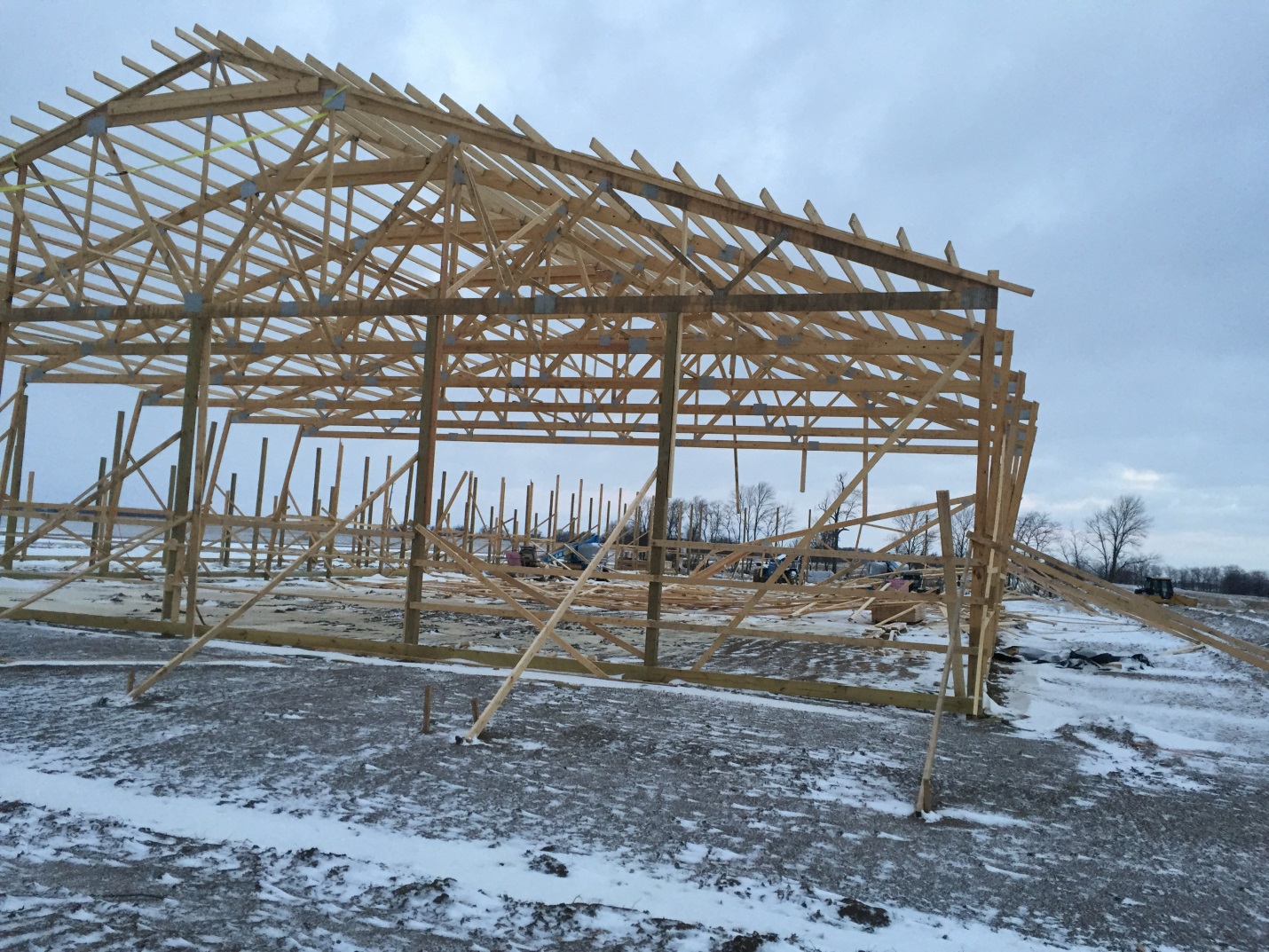 Over the Christmas weekend the area experienced some high localized winds, resulting in what you see above. There are some things which might have either prevented or minimized the current situation:
Diagonal bracing to the columns. Please note the 2×4 braces. When a 2x member is loaded in compression (as in wind pushing from the opposite direction towards the braced column), it tends to buckle in the weak (2x) direction. As such 2x bracing members over 10 feet in length should be strong backed with another 2x member to form a T or an L to prevent buckling.
It is also essential to adequately affix the braces to the columns, as well as having an immovable stake in the ground for anchorage.
Included in the Hansen Pole Buildings' Construction Manual is BCSI-B10 "Post Frame Truss Installation and Bracing" which details two industry recommended methods to resist racking of interior trusses/columns. These include using diagonal wood braces attached to the columns as well as truss top and bottom chords or the use of chains or cables with come-alongs to form an X in the direction of the trusses.
Trusses of spans 60 foot and greater also have some specific requirements for bracing, which can be read about in detail here: https://www.hansenpolebuildings.com/2013/12/wide-span-trusses/.