When I attended Bowdish Junior High School in the early 1970s it was located in a rapidly growing area of the Spokane Valley of Washington. When the classrooms were filled beyond capacity, the school district opted to throw their resources into the rental of temporary classrooms (also known as portables).
As an adult, and knowing what I know now, for the money which was thrown away on rentals, the district could have invested the taxpayer dollars into permanent post frame (pole) building classrooms which would have actually belonged to the district.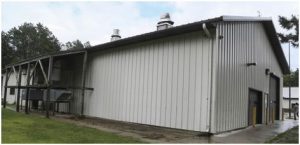 For roughly 30 years the Bug-O-Nay-Ge-Shig High School (known locally as "The Bug School") has operated out of a pole barn on the Leech Lake Indian Reservation in Bena, Minnesota.  The Bug School, is part of the U.S. Department of Interior's Bureau of Indian Education (BIE).
Ground has just recently been broken on a replacement high school, as the old pole barn had experienced roof leaks, the classrooms were cold and rodents had infested the building. None of these problems would have been problems had the building been properly designed for use as classrooms from the beginning.
A leaking roof on any post frame building can be attributed to either poor installation practices, or more often than not – incorrect fasteners having been used.
Read more on the evolution of "correct" post frame building screws here: https://www.hansenpolebuildings.com/2012/08/this-is-a-test-steel-strength/
Post frame buildings can easily be designed to provide deep wall cavities for insulation, and with the use of raised heel trusses (https://www.hansenpolebuildings.com/2012/07/raised-heel-trusses/) insulation can be blown into attic spaces to whatever the required depth is – without losing thickness at the sidewalls. In the case of Minnesota an attic R-value of 60 is recommended, which would take approximately 20 inches of blown in fiberglass. Raised heels of 22 inches would allow for full insulation depth, as well as Code required airflow in the dead attic space above.
Rodents – no problem, provided the building sidewalls have been started with base trim to prevent the critters from crawling up the ribs of the wall steel. Further protection can be easily added (at time of construction) by use of inside closure strips (https://www.hansenpolebuildings.com/2015/12/the-lowly-inside-closure/) at the base of each sheet of wall steel.
Whether public or private, post frame buildings remain the most cost affordable, as well as quickest, way to provide either new, or additional school classroom space.
Have an architect involved? If so, Hansen Pole Buildings will gladly work with them to provide structural designs which meet the Code requirements.