This week the Pole Barn Guru answers reader questions about replacement of a roof damaged from snow loads, gravel and concrete steps, and what measures are taken in Florida to prepare for hurricanes.
DEAR POLE BARN GURU: We have a 24'Wx52'L pole barn in Northern California and the 2022 winter snow load compromised the roof structure. The roof structure needs to be replaced and we're looking for builder/contractor recommendations, that serve Grass Valley, CA. RUSSELL in GRASS VALLEY
DEAR RUSSELL: Usually whomever insured your building can provide references for contactors in your area who do this type of work. I would reach out to them first. Most contractors, however, are not interested in partial rebuilds, due to them then becoming liable for structural integrity of entire structure. More often than not, it becomes less expensive to bulldoze what remains and rebuild from scratch. Best of success.
DEAR POLE BARN GURU: This is my new pole barn wall on one side. It is smaller on the opposite side. What is the rule for gravel and concrete and where do I measure from? I am not planning on doing foam boards. Overwhelmed by the next steps, and a concrete plan…SEAN in CALIFORNIA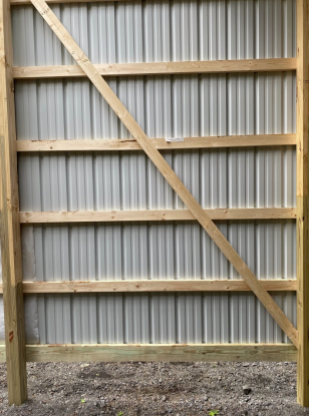 DEAR SEAN: Top of your concrete slab should be 3-1/2″ above bottom of pressure preservative treated splash plank. Measure downwards from this point for everything under slab.
DEAR POLE BARN GURU: For residential builds in Florida are there additional steps need to be taken due to hurricanes? LESLIE in BLOUNTSTOWN
DEAR LESLIE: We have provided close to a hundred fully engineered post frame buildings to our clients in Florida. All of these are designed to meet latest Florida Building Code requirements. We always encourage our clients to design to greater design wind speeds than minimum requirements (we want yours to be last house standing). All of our doors are wind load rated and most of our clients purchase their own windows, in order to meet Code loading.