Avoiding Using Pressure Treated Wood
Pressure preservative treated wood remains a mainstay in modern wood construction. United States' manufacturing and sales of pressure treated wood has become a multi-billion dollar industry. Even with all of this, there are some skeptics.
Reader DIANE in MORGANTOWN writes in:
" I want to avoid pressure treated wood. Even the newer and safer versions. Can any alternate material be used? Concrete? Metal? Thank you!"
I personally have full faith in current formulations of pressure preservative treatment chemicals for wood to be both environmentally friendly, safe for myself and my loved ones, and to provide excellent longevity. With this being said everyone should do their own due diligence of any product and develop their own opinions based upon such research.
From 2015 IBC (International Building Code):
"2304.12.2.2 Posts or columns.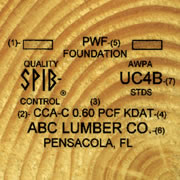 Posts or columns supporting permanent structures and supported by a concrete or masonry slab or flooring that is in direct contact with the earth shall be of naturally durable or preservative-treated wood.
Exception: Post or columns that are not exposed to the weather are supported by concrete piers or metal pedestals projected at least 1 inch (25mm) above the slab or deck and 8 inches (203 mm) above exposed earth and are separated by an impervious moisture barrier."

Column holes can therefore be completely concrete filled with wet set brackets placed on top of concrete allowing use of untreated wood columns (as long as column isolated from concrete per Code or weather  protected, it does not have to be preservative treated). https://www.hansenpolebuildings.com/2012/09/concrete-brackets-2/
A splash plank will be required around post frame building base in order to provide a form for any concrete slab poured upon grade and/or to be an anchorage point for siding. Typically this a pressure treated 2×8. In your case, an untreated board of cedar or redwood could be used, as they are somewhat naturally decay resistant. I would recommend either be encased in a Plasti-skirt (https://www.hansenpolebuildings.com/2017/08/plasti-skirt/) as untreated cedar or redwood has a lifespan much shorter than treated wood.