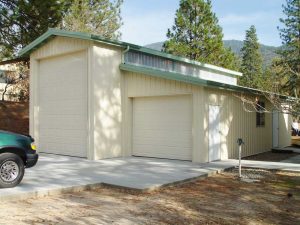 Maybe you're currently parking your car on the street or struggling to get enough storage space out of your single-car garage. If you have the space on your property, you may be thinking about expanding your current garage or even adding something totally new like a pole building garage or pole barn carport. A garage can add value to your property if and when it comes time to sell; depending on the market and garage size, it may add as much as $15,000-$30,000 to your home value.
Of course, increasing your home value isn't the only reason to expand or add a garage: you may simply want the practical benefits of this storage space. Below are a few situations in which building a larger garage may be worthwhile for you.
You Need to Park an Additional Vehicle
If you're currently leaving a car, motorcycle, or ATV out in the open, you could be leaving it vulnerable to the weather, falling tree branches, or even theft. And if you live somewhere with four seasons, you know that parking your car on the street can leave you with a blisteringly hot vehicle in the summer and a snow- and ice-coated windshield in the winter.
Going from a single-car to a two-car garage may be the best option if you've recently gotten a second vehicle. However, if you're just looking for a covered space for your vehicle, you could also purchase a pole building kit for a carport, which has a roof but no walls.
You Want to Set Up a Workstation
If you're someone who likes to tinker with your car or work on DIY projects that can't easily be done inside the house, you may be daydreaming about having a designated workstation. Building a larger garage will give you enough room for a counter or table, workbench, and additional tool storage. This workspace can be particularly good for projects that might be too messy for the house—such as painting or woodworking.
You Need Additional Storage Space
Home starting to feel cluttered? Installing a pole building garage is an inexpensive way to get more storage space without having to perform home renovations. You could use your new pole barn garage to store bikes, kayaks, Christmas decorations, or other items that are currently taking up space in your basement or a storage unit. You could also move your washer and dryer to the garage, freeing up more space inside your home for additional storage.
You Want a Multi-Use Space
A pole barn garage doesn't just have to be for car storage. Maybe you want a place to set up a ping pong table, contain your kids' messy arts and crafts projects, or even set up a home office (after all, Apple, Amazon, and Google all began out of garages). Whatever you need additional space for, a pole building garage can provide a cost-effective solution.