You and your loved ones have decided to take a plunge – building your own barndominium, shouse, or post frame home. 
But where?
Other than formulating a rough budget for building (https://www.hansenpolebuildings.com/2019/07/how-much-will-my-barndominium-cost/) your journey is realistically at a standstill until you have acquired a place to build.
It is easy to idealize what it's like to live on acreage away from city hustle and bustle, and there are indeed some advantages. Rural land costs are lower and generally further away from a city one gets, acreage becomes cheaper. Many people buy land because they want to build a custom home to their own specifications. They also want cleaner air and more space.
However, consider potential challenges fully before deciding to dump urban living and become Oliver Wendell Douglas (for those of you too young to remember Google "Green Acres").
Now my lovely bride and I happen to have our own rural shouse. We live in a county of 10,278 souls scattered across 1136 square miles. Deduct our nearby metropolis of Sisseton and we average less than seven people per square mile!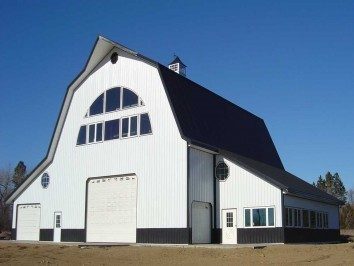 Finding skilled craftsman who are willing to travel to our location ranged from difficult to impossible. Few were interested in a jaunt of 60 miles from Watertown or 100 miles from Fargo. Those who would travel charged extra to compensate for driving time and distance. Transporting building materials and paying for delivery costs more than building near a major city.
Although modern conveniences are usually available, they aren't always reliable. We are now installing a backup propane generator for those times when we can go days without electrical power. Cell service here can be problematic, "Can you hear me now?". 
While we do have two grocery stores in Sisseton eight miles away, and serious shopping involves planning and a 100 mile drive. We're in snow country and a blizzard means we could be stuck at home for days.
Take time to become familiar with any area being considered for your new home site. Get to know your potential community and hear stories from locals before diving in deep with a realtor.
Use some caution as all of your future neighbors might not be overjoyed to hear you're going to buy up land behind their homes and erect your own palace there, obstructing their pristine views. You might meet up with some resistance—even organized resistance involving municipal and county authorities.
Consider rural resale values can be less in rural areas, due to a smaller pool of potential buyers. If demand is low and supply is high, prices will be more negotiable. 
Check with local authorities, including city, county, and state, to determine zoning ordinances. Find out any possible restrictions before committing to a land investment. Some areas prohibit construction on anything other than large parcels of five, 10 and even 20 acres.
Realize you might be subjected to sounds and lovely odors produced by nearby farms. In my past life I once rented a home, not realizing it was occasionally downwind of a mushroom growing plant. Mushrooms grow real well given dark and manure!
Stay tuned for our next exciting episode – where stench goes away and you move one step closer to making your dreams a reality!