Today the Pole barn Guru discusses questions about Gambrel buildings, a minimum ceiling height for a loft, and RV storage solutions.
DEAR POLE BARN GURU: Do you make plans for 18 x 20 gambrel roof pole barns? BEN in HOWELL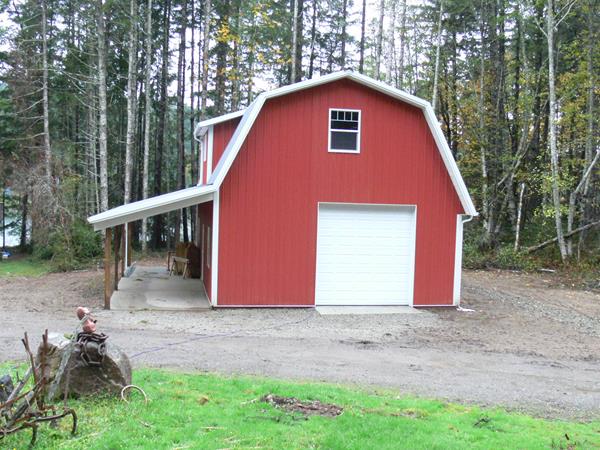 DEAR BEN: Hansen Pole Buildings can provide materials, assembly instructions and engineer sealed plans for virtually any dimension gambrel roofed pole barn – including your 18 x 20.
DEAR POLE BARN GURU: I am building a pole barn house and want to put a bedroom in the loft. What height do I need to have to be able to stand up in the bedroom? BRENDA in SPRING VALLEY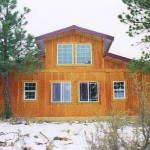 DEAR BRENDA: A quandary exists in providing you an answer as IRC (International Residential Code) makes no provision for post frame (pole) buildings, so therefore IBC (International Building Code) should be code to be used for their correct design.
Under IBC rules minimum ceiling height in these buildings must be 7 feet 6 inches in hallways, common areas, and habitable rooms.
According to IRC, all habitable rooms must have a minimum ceiling height of seven feet. Habitable rooms include bedrooms, living spaces and kitchens but exclude bathrooms, hallways, utility spaces and closets. A ceiling with exposed beams spaced four feet or more apart can measure 6 feet 6 inches from floor to underside of beams. Bathrooms may have a minimum ceiling height of 6 feet 8 inches.
Minimum ceiling height in rooms with sloped ceilings (such as a finished attic space) of seven feet over 50 percent or more of room area. Room area calculation in this case will be calculated as total floor space with walls (or headroom) five feet or greater tall. Areas with ceilings lower than 5 feet are allowed but do not count toward official room area total (IRC rules also include minimum floor space for most habitable rooms).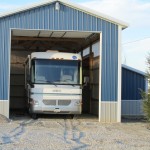 DEAR POLE BARN GURU: How much will it cost to build a roof only pole structure tall enough for RV while in use as shelter from elements but allowing as much light as possible.
Thanks MARY in SANDPOINT
DEAR MARY: There are numerous variables to be discussed between yourself and a Building Designer (please dial 866-200-9657 to speak with one) prior to being able to give an accurate price. Amongst these will be the height of your current (and any future) RV, as well as its length. Ultimately you may find it more cost affordable to cover one or more walls, as rarely is a roof only structure a most practical solution. For more reading regarding about this subject, please see: https://www.hansenpolebuildings.com/2015/04/roof-only-pole-buildings/.