What do Rock Climbing Holds have to do with Pole Barns?
Among other things my late cousin Kim Momb was an avid rock climber, before he became world famous as a mountaineer. (Read about some of Kim's exploits here: https://www.everesthistory.com/climbers/kimmomb.htm).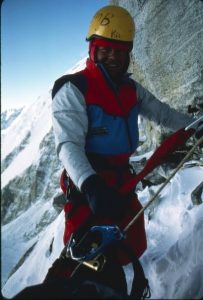 Well Kim was a rock climber way before it became popular and a proliferation of climbing walls began to crop up seemingly everywhere. I will confess to both a fear of heights and an ignorance as to climbing walls right now, so we can remove it from the table.
When I read about a business called So ILL Holds, I was intrigued. Brothers Daniel and David Chancellor started the business is 2002 on the porch of a college house in Carbondale, IL. The brothers were handcrafting eccentric and exciting holds for rock climbing walls.
In 2004 the pole barn came into play – as the 1000 square foot pole barn next to their shared house became their operations center. David would start the manufacturing process in the pole barn during the day and at night the two brothers would lead a student workforce in pulling, polishing and packaging Holds for sale.
At this point of their story, I want to know what the heck a rock climbing hold even is. Obviously it was enough of a business to require a team working in a fairly good sized pole barn to pull it off.
I naturally visited my friend, the sum of all human knowledge Wikipedia to find: "A climbing hold is a shaped grip that is usually attached to a climbing wall so climbers can grab or step on it. On most walls, climbing holds are arranged in paths, called routes, by specially trained route setters. Climbing holds come in a large array of sizes and shapes to provide different levels of challenge to a climber. Climbing holds are either bolted to a wall via hex-head bolts and existing t-nuts or they are screwed on with several small screws. In extreme cases, concrete anchors may be used (if putting holds on the underside of a bridge, for example).
Whether your fledgling business is rock climbing holds or custom widgets, chances are a post frame building could be in your future as an affordable and adaptable design solution.
The Chancellor brothers? Well they just launched a successful Kickstarter campaign raising $154,000 to bring a set of climbing shoes to market!