Post Frame Homes Proliferate
Post frame homes have been a well-kept secret for decades. Well, not only is the bag the cat was in open, but the cat has also leaped out and is running rampantly!
Here at Hansen Pole Buildings, we have noticed a significant surge in requests for quotes, as well as general interest, in residential post frame construction. And, it isn't just us who are noticing the trend.
Cindy Orschell is the executive director of the Franklin County (Indiana) Area Plan Commission and Building Department. When questioned about what is hot in building she reported, "The trend we are seeing a lot of are pole construction homes".
There are many possible reasons for the increased interest, one of which is cost.  My brother wrote his thesis on the savings of post frame construction for Habitat for Humanity homes probably 30 years ago, so this is nothing new. It was seven years ago when I penned an article outlining the savings in foundation costs (which have only increased since): https://www.hansenpolebuildings.com/2011/10/buildings-why-not-stick-frame-construction/.
Virtually any stick frame building floor plan or elevation can be converted to a post frame building. For this reason, Hansen Pole Buildings does not offer choices for post frame homes on our website. See something you like? It can be done.
How much is it going to cost?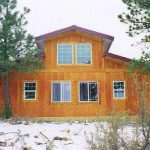 The structural system of a post-post frame home, its engineered plans and foundation are all going to prove to be less expensive than stick frame. Everything else is going to be pretty much the same – cabinets, fixtures and floor coverings do not suddenly become less expensive just because they were in a post frame building.
There is one place where you may end up spend a bit more up front than you might have with a stick built home – insulation and energy savings! Post frame buildings have fewer structural members which touch both interior and exterior surfaces, reducing the direct transfer of heat and cold. With deep wall cavities, more insulation can be added to the walls. Trusses with raised heels allow deeper insulation from wall-to-wall: https://www.hansenpolebuildings.com/2012/07/raised-heel-trusses/.
Where is the extra upfront investment? Paying for more insulation – which results in savings over the life of your home!
You can do it yourself!
Provided you can and will read the assembly instructions, tens of thousands of dollars can be saved by doing the work yourself. Post frame construction is extremely friendly to those who have the desire and inclination to self build.
Ready to build? We're here to assist: sales@hansenpolebuildings.com