DEAR POLE BARN GURU: I am about to build a pole building on a piece of land that is absolutely flat (pasture). I have read on this site that the poles should be installed before any earth work has been done. However, the state of Idaho says that I must have a drainage slope away from the building of 1 foot in 20. How do I reconcile these two requirements? STAN in LINDEN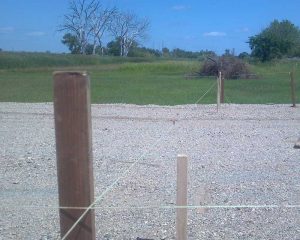 DEAR STAN: The rationale behind installing the columns first is very few people have fill adequately compacted when they bring it in. I've written a series of articles about proper site preparation and compaction which begins here: https://www.hansenpolebuildings.com/2011/11/site-preparation/. For most, it is easier to just order columns two feet longer than normal, embed them into undisturbed native soil per the engineered plans, then start construction with the pressure preservative treated splash plank held up far enough so as to have its bottom at the point of where the bottom of the finished concrete slab on grade in the building will be. Once the building is up, fill can then be brought in to bring the interior up to grade and create the needed slope outside of the building. The IBC (International Building Code) requires a 5% slope away from buildings where surfaces are not impermeable.
DEAR POLE BARN GURU: Below is pictured a pole barn I'm looking to convert into a woodworking shop. I want to stud out the walls, fiberglass insulate, and shiplap interior walls. The ceiling will be drywalled and loosefill fiberglass insulation. I will install electrical service, and a gas radiant tube heater on ceiling. My question is, with a wooden frame pole barn with exterior metal skin, OSB sheathing and asphalt shingle roof, what type of vapor barrier do I need on walls, under ceiling gypsum, and on seal plate? KENNY in SOUTHINGTON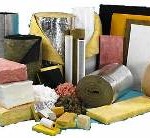 DEAR KENNY: You should remove the wall steel (one wall at a time) and install a housewrap between the wall framing and the wall steel, then reapply the siding after making certain any tears or seams have been properly taped. If you use unfaced fiberglass wall insulation you should place a 6ml clear visqueen vapor barrier on the inside (running from concrete slab to the bottom of the trusses), immediately prior to installing the gypsum wallboard (or other interior finishes). Again make sure to seal all rears or seams.
You should not have a vapor barrier between the ceiling framing and the drywall on the ceiling.
DEAR POLE BARN GURU: Have a new pole type barn and looking to insulate the inside walls with old style pink roll insulation, do I need a moisture/vapor barrier between the insulation and the metal tin siding? DOUG in PAOLA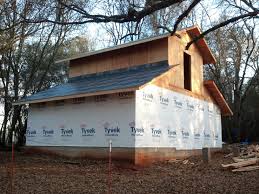 DEAR DOUG: You do not want a vapor barrier between the insulation and the siding, you DO want a building wrap (such as Tyvek). You should remove the wall steel, a wall at a time, install housewrap then put the siding back on. Use unfaced fiberglass batts and then a clear visqueen vapor barrier on the inside (make sure to seal any seams, rips or tears.