Are Unheated Post Frame Building Slabs on Grade Required to Be Frost Protected?

Reader BILL in CLAYTON writes:

"I'm in early planning for a post frame garage – just over 1000 sf but will reduce it if it solves a code problem for "private garages" in IBC. Ignoring that, where does the code permit a slab on ground floor in a post frame building to not be frost protected? Is it not a part of the "building and structure"? Obviously, the floor in most unheated post frame buildings with slabs are not frost protected. In IRC (which Hansen says does not apply to post frame) R301.1 says "Buildings and structures, and parts thereof…" shall be on a foundation and R403.1.4.1 "Except where otherwise protected from frost, foundation walls, piers and other permanent supports of buildings and structures shall be protected from frost by one or more of the following methods:…:" Is a slab on ground floor excluded from "foundation walls, piers and other permanent supports of buildings and structures"? The slab on the ground floor is not a part of the building and structure? Thank you!"

IRC R301.1.3 Engineered design.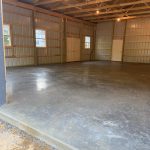 "When a building of otherwise conventional construction contains structural elements exceeding the limits of Section R301 or otherwise not conforming to this code, these elements shall be designed in accordance with accepted engineering practice. The extent of such design need only demonstrate compliance of nonconventional elements with other applicable provisions and shall be compatible with the performance of the conventional framed system. Engineered design in accordance with the International Building Code is permitted for all buildings and structures, and parts thereof, included in the scope of this code."

Unless your site is precluded from having a detached accessory building of over 1000 square feet – my recommendation is to erect the largest building you can afford and fit on your property. Whatever size you build, it will not be large enough. Being over 1000 square feet just means you have an S-2 rather than U classification building and is not going to affect structural design unless your Building Official deems your structure to be Risk Category II, rather than I.

Foundations of most post frame buildings are either embedded columns or columns anchored by approved wet set brackets to concrete piers. A slab on grade, in a post frame building with foundation as described, has no weight of building placed upon it, therefore is not a permanent support of structure.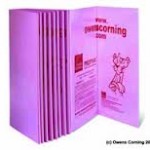 With this said, Jefferson County is in Climate Zone 6A. As such I personally would follow International Energy Code Table R402.1.2 and place R-10 rigid insulation inside of my splash plank from top of slab (3-1/2″ up from bottom of splash plank) extending downward 48 inches. This can easily be done by trenching at time of construction and would be of benefit should building ever be heated (as most strictly non-agricultural buildings usually are at some point) and be a point in eventual resale.