North Carolina College Students Learn Post Frame Construction
The following article by Dan Grubb appeared first in the December 5, 2018 Sampson Independent
"Sometimes the building blocks to success look more like beams than blocks. Students at Sampson Community College's Building and Construction program know this first hand as work continues on a facility the class is building on campus.
"Every day that we can put equipment into the hands of these students and let them go out and build things, the closer we are to them seeing a successful career, "says Dustin Hatcher, Building and Construction Instructor at SCC. "We allow the students to work from top to bottom, start to finish—the entire project. This building will be used as a storage unit for the college's Maintenance department. This is something they can go to an employer with and say 'Hey, I've done this!'"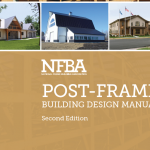 This week, students installed engineered wood structural beams onto posts that will be supporting the roof trusses of the building. They are learning how to set up and move scaffolding platforms and accurately measure, mark, then cut the beams with saws and fasten beams in place with nail guns. This provides experience working from elevated platforms and the use of some of the most common tools used in framing carpentry.
The Building Construction Technology curriculum at the college is designed to prepare individuals to apply technical knowledge and skills to the fields of architecture, construction, construction management, and other associated professions. Graduates will qualify for entry-level jobs in architectural, engineering, construction and trades professions as well as positions in industry and government. The course offers instruction in construction equipment and safety; site preparation and layout; construction estimating; print reading; building codes; framing; masonry; heating, ventilation, and air conditioning; electrical and mechanical systems; interior and exterior finishing; and plumbing.
Employment of these types of positions are projected to grow 12 percent from now until 2026, faster than the average for all occupations."
Mike the Pole Barn Guru adds:
Although this particular project does not happen to be a Hansen Pole Building, we do work closely with interested high schools, colleges and universities in support of Building and Construction or Vocational Education programs. For more information on how you and your school can participate: https://www.hansenpolebuildings.com/2016/01/high-school-classes/.