Swaying Roof Only Pole Barn
Yes indeed folks, as probably every owner of a roof only post frame (pole barn) building can and will attest, they sway with the wind.
Reader MIKE in ORLANDO was concerned about his new (not from Hansen Pole Buildings) roof only pole barn moving just from his installing steel roofing panels.
Mike from Orlando writes:
"I just completed the roof panel installation on my open-sided (roof only) Pole Barn structure. It is 38 x 48 with 14 ft eaves. The posts are 8″x 8″x18 ft (4 ft in the ground with full concrete embedment).

While working on the roof I noticed a sway in the structure. As I move around on the roof, the entire roof moves back and forth. It is the poles that are swaying!

This is my first Pole structure (I am self building it from a kit and following the engineered plans).

Is this normal movement? It makes me nervous to walk on the roof – but more importantly, will this be an issue with normal wind forces? Should I add any bracing (like girts between the posts) at the top of the posts to make the structure more rigid?

Thanks for your help."
Mike the Pole Barn Guru writes: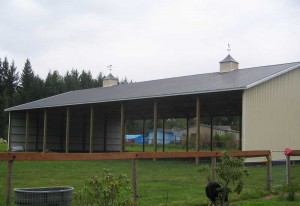 Your building's entire roof moves because its columns are working as pure cantilevers – like a diving board. Jump onto an unsupported end of a diving board and even though the board has a well anchored opposite end, the free end flexes. And flexes lots.
Wind (or you installing roofing) causes your building's posts to act in a similar fashion. Only practical way to reduce or eliminate this will be to cover one or both endwalls from roof to ground with a properly engineered wall (or walls). Unless you truly need to have a just a roof only building, I would recommend you contact your engineer who produced your building's original plans and contract with him or her to design one or both endwalls for you.

For more reading about roof only pole barns: https://www.hansenpolebuildings.com/2015/04/roof-only-pole-buildings/.