Concrete Floor Thickness for Heavy Equipment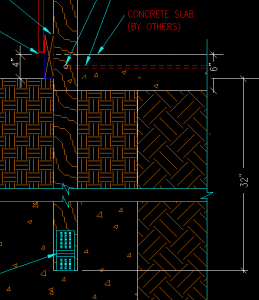 Reader KRIS writes:
"Dear Guru,
My husband and I are getting ready to construct a pole barn 40 x 80. He wants 2 x 14′ doors, 1 x 10′ and a service door. It will be used for heavy equipment storage and workshop/florist shop to keep critters out.
We had a contractor recommend a 6″ floor and 4 ft cement walls which I'm guessing drives the price up substantially. My husband thinks the floor should be more like 10″. An excavator, track loader, 9n tractor, and UTV/ATV will be stored.
We will want to heat the 2 workshops.
I don't even know where to begin. What do you recommend?
Thanks"
Mike the Pole Barn Guru responds:
Unless there is far more to this than I am seeing, there would be no practical reason to have a four foot high concrete wall. Perhaps he is thinking of a foundation (below grade) wall, rather than an above grade wall.
Starting with floor thickness….to give a perspective 60% of the U.S. Interstate Highway system has 11 inch thick concrete. From the PE (Professional Engineer) Civil Exam, in Basics of Concrete Pavement Thickness Design, the thickness depends upon traffic load, subgrade and climate, but city streets, secondary roads and small airports are typically four to seven inch thicknesses). This leads one to believe a 10″ thick slab would be perhaps excessive.
What is going to make the biggest difference in the success of your concrete floor will be the gradework which is done underneath. You will want to read this series of articles, which begins with https://www.hansenpolebuildings.com/2011/11/site-preparation/.
I'd invest my dollars in the preparation of the site, rather than pouring lots of dollars into an overly thick slab which is over a poorly prepared subgrade. Six inches of thickness should be more than adequate for areas where heavy equipment will be driven and parked. For lesser loads, four inches.
Now let's talk about the perimeter. If a foundation stem wall is being considered, I'd recommend using the Frost-Protected Shallow Foundation design, which you can get details on here: https://www.hansenpolebuildings.com/2016/11/frost-protected-shallow-foundations/. Using this eliminates the need for foundation walls, plus provides an energy efficient insulation solution, while reducing the possibility of frost heaves.
For heating, you should consider radiant floor heat – at the least have PEX tubing placed in the floors: https://www.hansenpolebuildings.com/2016/08/pex-tubing/.
Please take the time to browse our website for more articles on the design of energy efficient post frame building walls and roof systems.