From the age of six, alpine (aka downhill) snow skiing has been a part of our family culture. As my three youngest children (Bailey, Allison and Brent) graduated from being toddlers – I took them to the slopes and taught them to ski as well. It was not my being the greatest skier on the planet which allowed me to be a fairly decent teacher, but rather having been blessed with a fair amount of patience and the ability to ski backwards!
My lovely bride is also a skier, although it seems she did not get started as gently (or as young as I did). The story I have heard is of her first husband and some friends getting her geared up, to the top of the hill and then off they went – with no instruction as to how to get to the bottom!
Over the years my wife and I have skied many slopes (often with one or more of our young tribe along) – mostly in the area near our Newman Lake, Washington home (nearby Mount Spokane – which we look out our windows at, Silver Mountain, Lookout Pass and Schweitzer Basin https://www.hansenpolebuildings.com/2016/09/snow-drift-loads/ ). We've also been to Park City as well as my bride's favorite – Jackson Hole.
Life for us changed not much over a year ago (https://www.hansenpolebuildings.com/2015/10/when-life-changes-in-the-blink-of-an-eye/ ), leaving my bride a paraplegic. In June, she had her six month after release checkup at Craig Hospital in Englewood, Colorado. One of the things she was interested in was adaptive driving.
It turns out the adaptive driving advisor at Craig was a former adaptive snow ski instructor and the two of them talking far more about the slopes, than negotiating pot holes in pavement! This has inspired her to want to try skiing again.
My Auntie Joyce (former ski school manager) has been sending my wife cards pretty much every week since her accident, and has also been a promoter of getting Judy back on skis. To the point of lining up a ski trip to Park City in March, where they do have an adaptive ski program.
Ada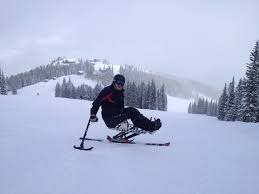 ptive snow skiing involves some entirely different aspects, as each resort promoting it has to have a building or buildings which are specifically designed for the combination of accessibility and snow sports.
Lots and lots of equipment is part of the programs as there are skiers with a multitude of differing challenges.
People with disabilities can learn to ski or refine their skills with trained instructors using specialized adaptive ski equipment to help meet their personal needs.
This list will give you an idea of how extensive the required equipment is:
Mono-Ski – The mono-ski was developed for individuals who ski in a sitting position.
Bi-Ski – The bi-ski was developed for individuals who ski in a sitting position including those with multiple sclerosis, muscular dystrophy, cerebral palsy, spina bifida or individuals with spinal cord injuries.
Two Track – Two trackers use two skis and two boots and may use a ski bra attached to the ski tips to assist with lateral control and help maintain a consistent ski position.
Three Track – These skiers have one sound leg and two sound arms and are generally individuals who have amputations, post polio or hemiplegia.
Four Track – Four tracking is for individuals with involvement of the lower extremities and includes individuals with cerebral palsy, spina bifida, spinal cord injuries, multiple sclerosis or lower extremity amputations.
Ski Bike – The latest piece of equipment to be added to the Adaptive Ski Program's offerings is the Ski Bike. The ski bike is a short bike with skis instead of wheels and the rider wears additional small skies attached to each foot.
One resort which has embraced adaptive skiing is Greek Peak in Central New York. There the Greek Peak Adaptive Training Center constructed a building specifically to meet the needs of those with challenges. Officially the building is named the Dr. Robert M. Lovejoy Adaptive Ski Center, in honor of Dr. Lovejoy, the program's first skier with total blindness!
In order to provide the myriad of equipment options and discounted or free lessons and lift passes, it is essential to keep the costs of adaptive ski programs down – which is where post frame (pole barn) construction comes in to play. Post frame buildings can easily be designed to bear the brunt of whatever snow and wind conditions are thrown at them, as well as being a cost effective and quickly constructed (even by volunteers) solution!