Judy Hansen is a Registered Nurse, who generally worked in smallish hospitals in the area around Browns Valley, MN. Primarily working in or being a nurse manager for 24 years – she pretty well did it all, including delivering her share of little ones into the world. One of her favorite positions was working at the Veterans Hospital, taking care of 'train wrecks'.
Hansen Pole Buildings became her third career, after nursing, which was concurrent with working the farm with her first husband Dan. Since 2002, Judy has AutoCAD drafted, or reviewed every set of the thousands of pole building plans which have been produced for our clients. The attention to detail skills she honed as a Registered Nurse, translated ideally to pole building plans.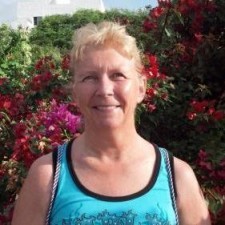 A few years ago, Judy added a fun expansion to her comfort zone, riding her own motorcycle – a low mileage 1100cc Yamaha Virago. Each year, for the past three summers, she has trekked with her motorcycle back and forth between Browns Valley and the state of Washington. This has also given her the opportunity to stop in Pierre, South Dakota for some grandmother time.
Saturday, September 26, 2015, found Judy in the midst of one of these cross country jaunts – leaving Gillette, WY at sunup, headed west on Interstate 90, with a goal of ending the day somewhere in the Butte to Missoula area. After fueling up in Livingston, it was on the road through Bozeman Pass. Almost to the top of the pass, between mile posts 318 and 317 is a long gradual sweeping curve to the left.
For whatever reason, Judy went off this curve at approximately 70 miles an hour, her and her motorcycle eventually tumbling end-over-end until finally coming to rest in the roadside brush.
Never losing consciousness, she was immediately aware of having no feeling in her legs or feet. Emergency crews were quickly on the scene and transported her to Bozeman Deaconess Hospital. After stabilizing her, the doctors determined her level of trauma was such as they would need to helicopter her to the nearest trauma center – St. Vincent in Billings.
The surgeons there reviewed her scans and X rays, it was found the T-6 vertebrae was damaged beyond repair. An eight hour surgery on Sunday entailed placement of titanium rods three vertebrae above and below T-6, as well as a spacer in the T-6 space.
The damage to her spinal cord is so severe the surgeons in Billings gave her no chance of ever walking again. She has no sensation of feeling below the naval.  Although no limbs were broken, she did fracture five of her right ribs both in front and in back.
Once she was out of the Billings ICU, Angel Flight was enlisted (for about the price of a good used late model car) to fly her from Billings to Denver.
Judy is now at Craig Hospital in Denver (read about Craig Hospital here: https://craighospital.org/), and is progressing well – hopefully soon to be out of the acute stage. She has had a bevy of tests – ultrasounds, X rays, CAT scans and MRIs. Craig Hospital is an amazing facility for those with Spinal Cord Injuries, and between it and the neighboring Swedish Hospital, she is in the best of hands.
Early on best guess is she will be at Craig for 45-60 days.
Her attitude is nothing short of amazing – she is remarkably upbeat and is determined to get herself back to being independent and living the fullest life possible.
For those who are interested in following her progress and cheering her on to recovery, go to www.caringbridge.org and search for Judy Ann Hansen. The encouragement is something which is priceless.