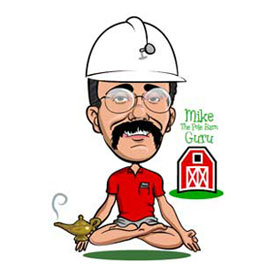 I'm a pretty calm guy. It takes a lot to get a fire stoked under me, but the City of Williston, North Dakota could eventually get me there.
And here is why….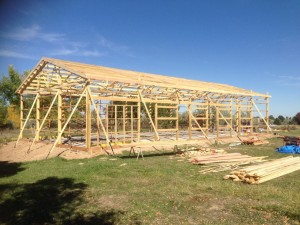 The Williston city commissioners are considering making a pole building moratorium on any new metal or pole structures permanent. In my humble opinion, the commissioners are possibly operating under mistaken ideas.
Here is the October 2, 2015 article in the Williston Herald by Renee Jean:
"The city is getting ready to make a moratorium on any new metal or pole structures permanent. The moratorium had been set to expire, so the city commission is considering adding it to ordinance 1025.
However, some commissioners are concerned making the restrictions permanent would add to the expense of building anything downtown and thus discourage new projects.
The restrictions were unanimously recommended for approval by the city planning and zoning commission. P&Z had a first reading at the most recent city commission meeting, where it was explained that the addition to ordinance 1025 would restrict the main building materials for new construction to stone, stucco and brick on sides that face adjacent street right of way in the downtown area.
"There is certainly room for creativity," the city's senior planner Rachel Wressler said, in explaining the ordinance to city commissioners. "But those are generally considered approved materials for downtowns."
Metal could be allowed for decorative accents. An example Wressler gave was Basil's, where a metal overhang has been painted with the restaurant's name, as well as Lucy' Lu's. It could also be used on sides that don't face adjacent street right of way, as is the case with the Renaissance center, currently under construction.
In general, the ordinance would prevent the use of corrugated metal, residential vinyl siding or other materials on new buildings. Those don't fit in the city's downtown plan, which, Wressler pointed out, was adopted and approved after a period of public discussion was duly held.
The restrictions will apply only to new buildings or sizable renovations of 1,000 square feet or more in the area the city has designated as downtown, Wressler said. Existing buildings will not be required to update exteriors at this time.
The ordinance also won't affect any R2 or R3 residential areas that lie in the downtown; it would apply to new construction in light industrial areas, such as those just off the railway in the downtown area.
Commissioner Tate Cymbaluk had a few questions about that.
"Why would you not let them do a metal building there?" he asked. "And what if the building burns down? Can they not rebuild to that type?"
Wressler said that area contains many older buildings that will need to be redone at some point. Mayor Howard Klug pointed out that it would only be the side facing adjacent street right of way that would be affected. The side facing the railway can be metal.
Commissioner Brad Bekkadahl asked about the restrictions against wood and residential siding. "Can't those be accent materials?" he asked.
"There are pretty distinct styles of buildings that are considered to be part of a downtown," Wressler said. "It is harder to use wood than metal, so that is why the ordinance talks about metal. We can certainly update the ordinance if you want."
Cymbaluk said it is important that the ordinance not become so prohibitive that it discourages building downtown. Limiting it to stone, brick and stucco could get expensive.
Before the vote was called, Cymbaluk asked if the ordinance can come back for the next reading with changes. That was affirmed, however no particular changes were directed to be made in the public session.
The motion to give the ordinance a first reading was approved unanimously. It could be among items addressed in the next regular city commission meeting set for Oct. 13. The meeting will be open to the public."
Planning Departments can move to restrict type of exterior materials. Those restrictions must be applied evenly to any "type" of building system.
Where the mistaken idea comes from is pole (more appropriately post frame) buildings can be roofed and sided with the same materials as any other building. A post frame building is the structural system of the building, not the exterior.
I'm looking forward to the next client of ours who bucks up against this restriction in Williston, so the City Attorney and I can have a friendly discussion about the attempt to create a prohibition against a Code conforming structural system.
So far, I have won this type of battle every single time.