Today the Pole Barn Guru addresses reader questions about site preparation for a post frame building, reflective radiant barrier or sheathing needed for a post frame home, and a detail for a jamb latch on a sliding door.
DEAR POLE BARN GURU: I been watching a lot of your videos on YouTube, I wish you guys were closer to me. I'm in the process of building my own. I have a question, I'm about 3′ different from hit to low. I plan on bring in 1″ road down stone and compacting it down to raise the elevation close to the highest point. Would be this be sufficient? The post from is 40×56. The elevation is from back vs the front (mostly on one corner is the major elevation change). TIM
DEAR TIM: Thank you for reaching out to us.
Hansen Pole Buildings is America's leader in providing fully engineered, 100% custom designed, post frame building and barndominium kits, with multiple buildings in all 50 states. Your deliveries come from one or more of our thousands of shipping locations across the country (minimizing delivery costs) – so chances are excellent we are 'close' to you (as well as supporting your local economy)!
I have penned an entire series on site preparation:
https://www.hansenpolebuildings.com/2011/11/site-preparation/
https://www.hansenpolebuildings.com/2011/11/soil-compaction/
https://www.hansenpolebuildings.com/2011/11/soil-moisture-content/
https://www.hansenpolebuildings.com/2011/11/soil-density/
https://www.hansenpolebuildings.com/2011/11/soil-compaction-how-to/
We would appreciate the opportunity to participate in your new pole building. Please email your building specifics, site address and best contact number to our Design Studio Manager Caleb@HansenPoleBuildings.com 1(866)200-9657 Thank you.
DEAR POLE BARN GURU: I am building a post barn residential home and using solar guard insulation on the roof and outside walls under the metal. Is zip system – OSB sheathing still needed or even recommended? Some people say it would be just a waste and is not necessary and others say it absolutely is! I'm so confused and lost! Please help!! MATTIE in LEXINGTON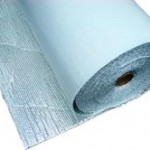 DEAR MATTIE: Solar Guard is a Reflective Radiant Barrier, it is truly not insulation. Provided you have taped all of the seams, it should work well as a condensation control between your building's roof purlins and roof steel. It is the absolute wrong product to use in your building's walls. You should use a Weather Resistant Barrier (think Tyvek or similar) between framing and steel siding (unless you are planning on closed cell spray foam insulation – it should be sprayed directly to inside of wall steel).
Unless your building's engineer has specified solid sheathing for structural purposes, there would be no reason to incorporate OSB, plywood or zip system – other than adding to cost, a very minimal increase in R value and perhaps some sound deadening (investing in good insulation will be a better solution for sound control).
DEAR POLE BARN GURU: Do you have a larger detail on how a side mounted jamb latch works on a sliding barn door?? Thanks MIKE in SAUK RAPIDS
DEAR MIKE: This should help: