Reason You Go With Engineered Prints

Yes, I know some of you gentle readers are offended by my harping on how important it is to build only from site specific fully engineered plans. Well, here is a case study.

Reader AARON in CARBON HILL writes:

"Reason you go with engineering prints. My contractor said it's how we always do it. Well after they fell he said we need to discuss payment on the work I've done I paid for all material up front. I'm not paying c**p he should pay me for the lost and damages."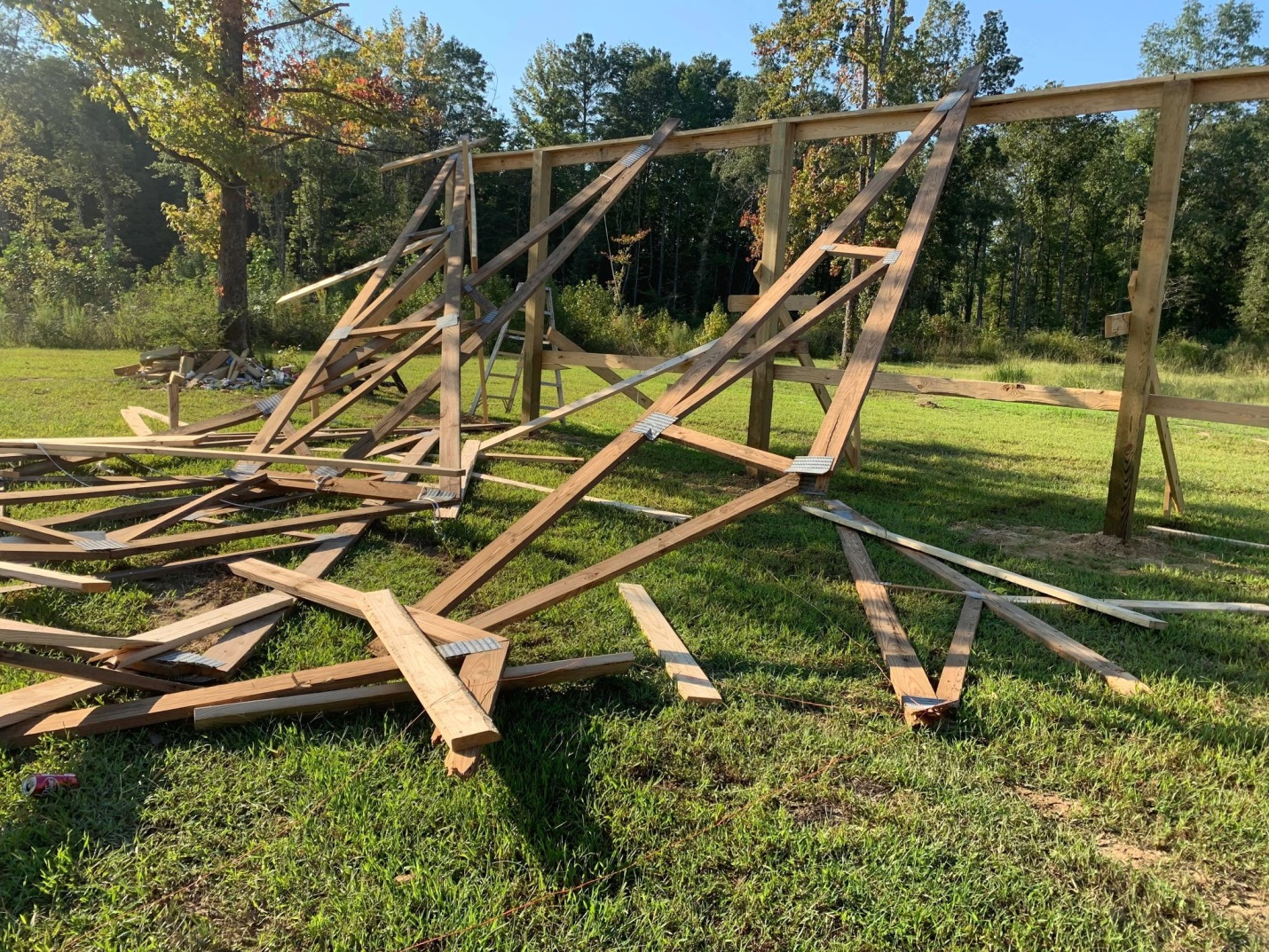 As far as engineering goes, it appears columns have an unsupported length of under 131 inches.

Why would this be important?

For a roof only building, such as this, columns are carrying all of the bending loads from winds. Sound engineering practice, says wood column's least dimension (5-1/2 inches) x 50 divided by Ke (2.1 in this instance) equals maximum unsupported length.

5.5" x 50 / 2.1 = 130.95"

K factor approximates length a column actually buckles at. This effective length can be longer, shorter or exact depending upon rigidity of supports. As a roof only structure has no means to transfer horizontal loads through endwall sheathing, columns act as cantilevers (think diving board). For a building with sufficient endwalls Ke would be 0.85 (makes a huge difference).

Truss carriers appear to be sketchy, however not having site loads, nor size, grade and species of them, it is impossible to verify (and none of them appear to have failed in photos provided).

What is absent? Temporary and permanent truss bracing.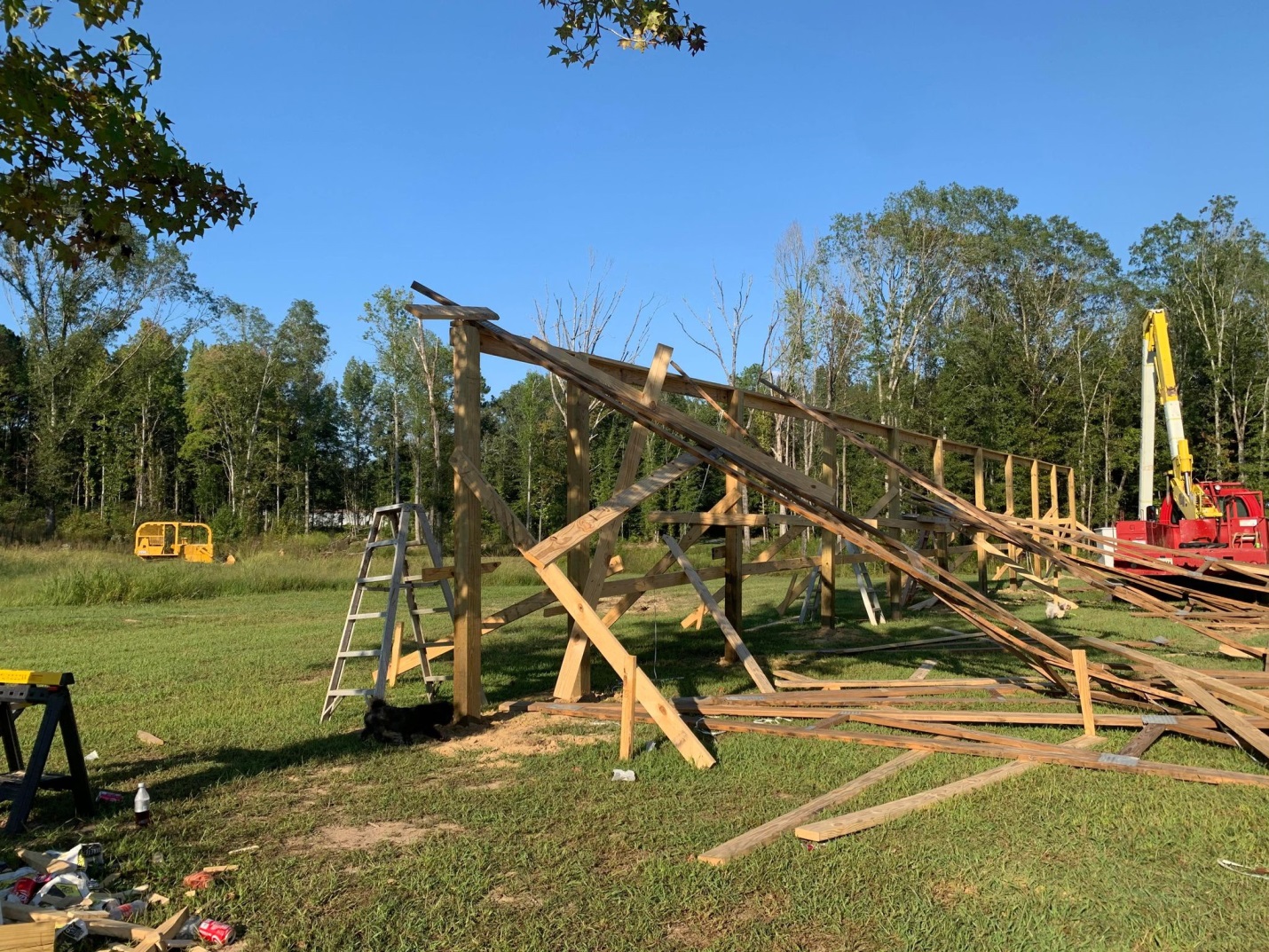 I have expounded on how important temporary truss bracing is previously (https://www.hansenpolebuildings.com/2014/12/temporary-truss-bracing/). I advised Aaron this appeared to be the cause of his now firewood. Also – this one is on his builder, who has some cajones asking to be paid when he caused this mess.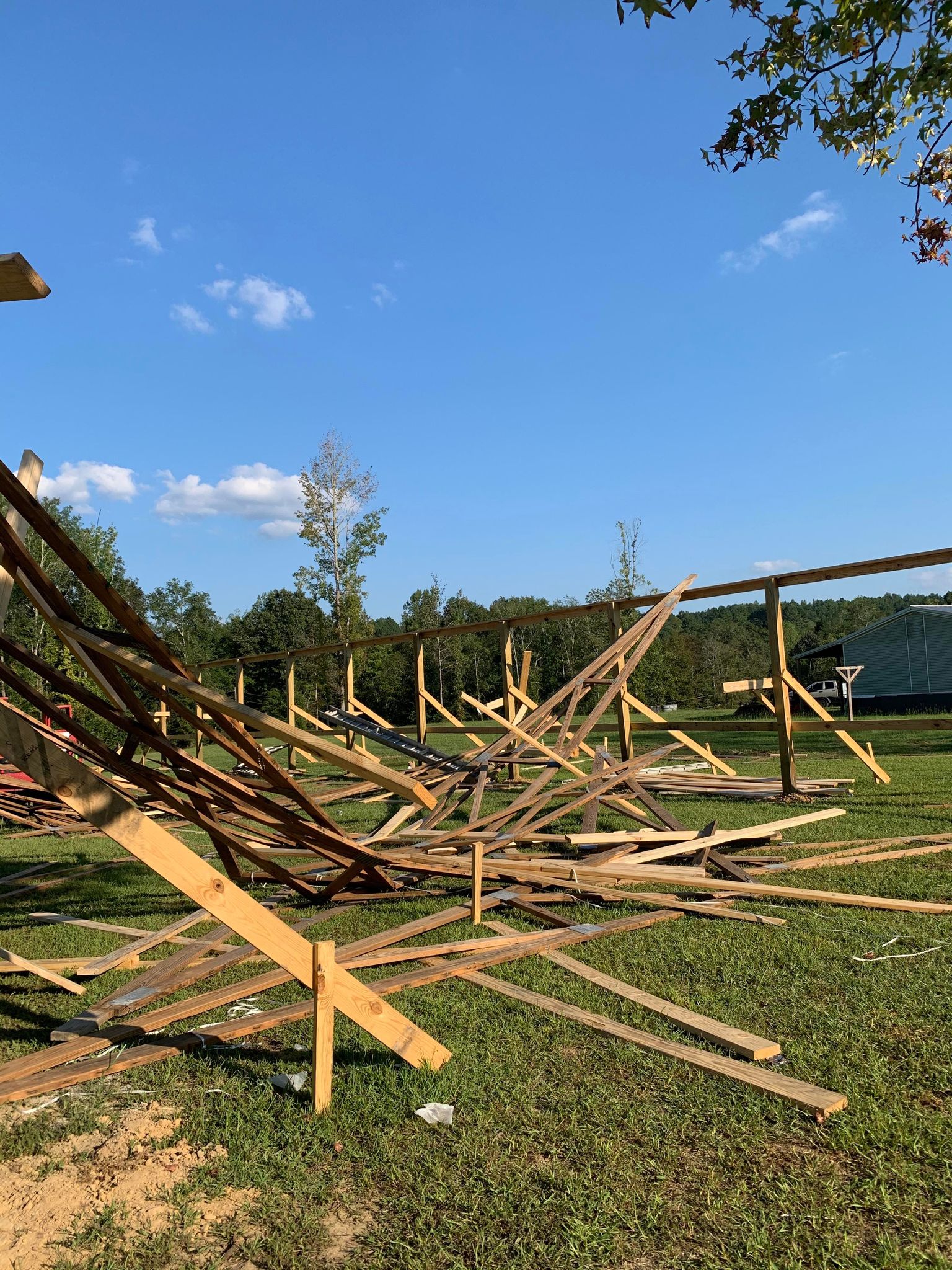 AARON responded, "Yep thanks I just thought if anyone wanted to see what happens when your contractor doesn't follow the prints. Feel free to share with anyone. We will be ordering a new building kit and go with a contractor with more references. Thanks."

Currently, there is such a shortage of builders, every Chuck-With-A-Truck, a hammer, circular saw, big dog and loud radio seems to think they can hop in and make big money. Don't be caught in Aaron's situation – always thoroughly vet any contractor https://www.hansenpolebuildings.com/2018/04/vetting-building-contractor/.