Painting Tips for Post Frame building Owners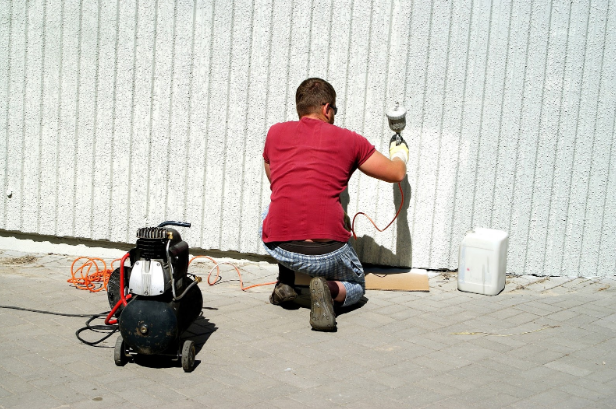 Generally, post frame buildings are fairly maintenance-free, which is among the many reasons they're so popular. Whether your building is for residential, commercial, or agricultural use, you undoubtedly have come to depend on it. 
When it's time to repaint the original metal coating on your post frame building to keep it looking sharp and crisp, leverage the experience of professional painters. Even if your paint vision is strictly aesthetic if say you prefer a different panel color or want a company logo painted on your roof, for instance, there are many points to consider.
Trust the Pros 
Whether you want to paint your building's exterior and/or just its roof or interior, go with the pros. Sure, painting a post frame building can be a DIY job. However, it's best for building owners to spend a bit more and leave the job to licensed, experienced professionals who understand the many unique requirements of post frame building painting.
Professionals will fully understand the scope and requirements of correctly painting a post frame building it's definitely not the same as painting your bedroom or dining room. Let several contractors deliver a detailed cost estimate and a timeline for your particular project. 
Ask whether your painting can be done in one day (weather permitting), or whether the job needs to be completed in stages.
The Right Paint for the Surface
Outdoor surfaces are exposed to wide temperature fluctuations. Over the years, post frame buildings get hammered by rain, wind, hail, even the sun. You need quality paint that's tough and long-lasting and can withstand nature's harshest elements. 
Most post frame buildings use a unique paint coating, whether it's silicone modified paint (SMP) or Kynar paint over the metal surfaces. This type of paint has been specifically applied in the factory before our building was constructed but there are paints that can properly adhere to these finished should you want to change your building's look and paint in the field.
Professional paint contractors are experienced with working with these paint systems. It would be a challenge to paint Kynar finish without the appropriate equipment and DIY results may not look great. Take their recommendations and make the best investment you can for your property. 
And if you're also painting your building's roof, some roof paints have characteristics that make them more reflective than others, meaning better energy efficiency. Trust the pros to help you select the right paint for your post frame building. You will want your building to still withstand the elements and be washable so take your time and do it right. 
Extending the life of your post frame building doesn't need to be complicated. Metal has long been popular for exteriors of buildings due to its durability. With a freshly painted surface with Kynar or SMP paint your building can resist fading, chalking, and can shed dirt and mildew more easily. 
To prevent fading and chalking differences, you will want to be sure to choose the same type of paint previously used to coat your building if you are simply planning on painting individual panels. Professionals can assist you to ensure your building looks great after the task is complete! 
Preparation Before Paint
It's your building and your money. You want to ensure your paint job is done correctly. Proper paint preparation is an essential part of the process. Removing dirt, debris, and deposits from the metal is an important pre-paint step. Also take time to address any mildew, condensation, or rust issues before painting begins. 
Other essential prep work includes a power wash and rinse. A thorough cleaning should be followed by a light sanding of minor scratches (or sandblasting of larger areas) if needed. Windows, doors, and light fixtures should be taped. And surrounding areas, including shrubs and plants, should be protected from potential overspray. 
Other repairs might be in order before repainting, if so, now's the time. It's also important to consider the weather where your post frame building is located. If it's too hot or too cold, the paint will not affix properly and its best to wait. Let Mother Nature, and your painting pros, guide the precise scheduling of your job.
Safety First
Experienced painting professionals will take all necessary precautions and show up with the right equipment including paint and safety supplies to work on your job. They'll have the necessary fall protection equipment too, such as harnesses and lifts, to safely do the work, which is essential for roof repainting jobs especially. 
Conclusion
Don't struggle with trying to DIY painting your pole building, trust the professionals to Breathe new life into the look of your building for you. When your post frame building is prepped and painted professionally it will give your property a fresh new look!