Today's BONUS round of the PBG includes questions about column advice, liability insurance to harvest reclaimed wood, and parts for used pole barn doors.
DEAR POLE BARN GURU: My barn will be 9'4″ to the eave, 40′ x 64′ long.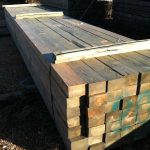 What column material should I use? My options are 4″x 6″ Pressure treated wood or finger-jointed glulams consisting of (3) 2 x 6 which are only treated on the bottom 6′. RANDY in NEW YORK
DEAR RANDY: This is why you should only build from a fully engineered set of plans. Your engineer of record will take into account things like – design wind speed, wind exposure, snow loads, soil bearing capacity, will there be a slab on grade or not, interior finished or not, roof dead loads (ceiling, roofing materials), slope of roof, column spacing, walls open, enclosed, partially enclosed, etc. to determine proper column size for your specific building. If you do not have engineered plans, go invest in them now.
I can tell you glulaminated columns are significantly stronger.
DEAR POLE BARN GURU: Planning a build with reclaimed lumber. Plenty of barns to reclaim. But owners want you to have insurance, which is a good plan for both parties. Having a hard time since we are not a business.
Any idea where we can get personal general liability insurance? DEE in MOUNT STERLING
DEAR DEE: You may need to form a business entity in order to get sufficient insurance to provide adequate coverage. Contact whomever you have home owner's insurance with currently, as your agent should be able to either write a policy, or provide you with a referral to someone who can.
DEAR POLE BARN GURU: Hello, do you buy used steel pull barn doors? I have two, 7×10 that I'd like to sell. Please let me know.
Thank you! RIAN in ST. Paul
DEAR RIAN: Thank you for asking, however we use no used materials in our buildings. You might offer them for sale on Craigslist.