Gable Venting a Post Frame Attic

Reader ALLEN in KIRBY writes:

"30×50 13 foot walls roof is 4-12 pitch I need to vent the attic. What size vents do I need to order? Two, one for each gable end what size do I need?"
Mike the Pole Barn Guru says:
From the 2021 IBC (International Building Code)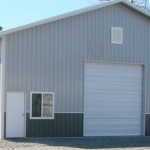 1202.2.1 Ventilated attics and rafter spaces. Enclosed attic and enclosed rafter spaces formed where ceilings are applied directly to the underside of the roof framing members shall have cross ventilation for each separate space by ventilating openings protected against the entrance of rain or snow. Blocking and bridging shall be arranged so as not to interfere with the movement of air. An airspace of not less than 1 inch shall be provided between the insulation and the roof sheathing. The net free ventilating area shall be not less than 1/150 of the area of the space ventilated. Ventilators shall be installed in accordance with manufacturer's installation instructions.

Exception: The net free cross-ventilation area shall be permitted to be reduced to 1/300  provided both of the following conditions are met:
1. In climate zones 6, 7 and 8, a Class 1 or 2 vapor retarder is installed on the warm-in-winter side of the ceiling.
2. At least 40 percent and not more than 50 percent of the required venting area is provided by ventilators located in the upper portion of the attic or rafter space. Upper ventilators shall be located no more than 3 feet below the ridge or highest point of the space, measured vertically, with the balance of the ventilation provided by the eave or cornice vents. Where the location of wall or roof framing members conflicts with the installation of upper ventilators, installation more than 3 feet below the ridge or highest point of the space shall be permitted.

You are not in a Climate Zone 6 or higher. As long as 50-60% of your venting area will be in the lower portion of your attic and 40-50% in the upper three feet, you can meet Code with a NFVA (Net Free Ventilation Area) of five square feet (720 square inches), half of which should be at each end. To give you an idea, www.airvent.com offers 14″ x 24″ rectangular wall louvers with a NFVA of 92.4 square inches each. It would take four of these in each gable end to provide adequate NFVA.

Ventilation, planned in advance, with air intake from enclosed vented soffits and exhaust at ridge yield a better airflow, at lower investment, with far superior aesthetics.