Adding Heated Space in a Pole Barn

Reader THOM in COLRAIN writes:

" I'm creating a 20′ X 30′ heated shop space in the center of a 40′ X 70′ pole barn.  One 20′ side is on an outside wall.  The other three have 2 X 4 studs.  I'm using rough-cut 1″ for the walls of the heated space.  The cold side of the stud wall does not need to have any sheathing, though it can, if necessary.
Where should the reflectix go?  I'm comfortable with it being on the hot side of the 1″ boards.  Does the heated shop count as the air gap, or should it go under the sheathing.  I look forward to your response, and Happy New Year!"
Mike the Pole Barn Guru says:
Happy New Year to you as well!

I noticed your umass.edu email address, our youngest son is working on his doctorate in exercise and muscle physiology at UMass Amherst.

Reflectix® is a reflective Radiant Barrier (RRB) and not an insulation (https://www.hansenpolebuildings.com/2014/04/reflective-insulation-wars/).
Many considerations need to be made when conditioning a space.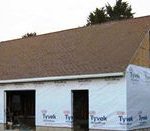 Unless you are going to have HVAC provisions to dry the inside of your heated shop space, you want to dry your space to the exterior . As such, you should have a WRB (like Tyvek) on your shop exterior, then either unfaced batts with 6mil poly on inside, or kraft faced batts. Your ceiling insulation should be unfaced without a vapor barrier. You will probably want to have some sort of exterior sheathing or other barrier to keep rodents from nesting in your insulation. In answer to where Reflectix should go – probably not on this space you are creating.

There is yet another consideration to be made. Most cold storage post frame (pole barn) buildings with concrete slabs on grade do not have vapor barriers underneath. You can determine if yours does or does not have one by placing a wrench on your floor overnight. Next morning, when you remove this wrench, if a dark space appears on your floor where your wrench was, you do not have a vapor barrier underneath. If this is your case, a sealant should be applied on your slab to minimize moisture entering your conditioned space.