This week the Pole Barn Guru addresses a concern about personal items being ruined by storing them in an unfinished pole building, the need for an additional two feet of interior height, and floor plans for designing a post frame home.
DEAR POLE BARN GURU: Hello- not sure if you can answer this but hoping so. We have opportunity to rent a 20'x40′ portion of a pole barn building. The rent is very reasonable to we are considering moving all the contents of 3 storage units into this building, including small remodeling business with tools and materials. Question, it's a brand new pole building, but the owner has not enclosed the soffit at the top. Will our stuff take get ruined in there? Moisture, hot and cold temperatures, mice, etc. Thinking it's not an ideal place to put our furniture but wanted to ask a pole barn specialist. It's such a good deal but I don't want our belongings to get ruined. Thank you in advance for your opinion. DONNA in SUSSEX COUNTY
DEAR DONNA: Unless this unit is as close to completely sealed as possible (other than properly screened or very tiny openings venting) you should be prepared for all sorts of small critters and insects to be joining your valuable goods. My other concerns would be first as to if there is a well sealed vapor barrier under this building's slab on grade. If not, there will be moisture coming through into your unit. Secondly – what sort of provision has been made to prevent condensation from occurring on underside of roof steel?
DEAR POLE BARN GURU: I have a 40′ x 50′ x10′ pole barn, I need another 2′ in height, minimum. What is the best way to handle it? Thanks for your time JERRY in FRANKFORT
DEAR JERRY: There is only one correct way to achieve this – hire a Registered Professional Engineer who can design a structurally sound method to get to your end goal. Any other recommendation could likely result in a collapse.
DEAR POLE BARN GURU: Hey Mike, we are planning to build a 40×60 pole barn home with the rear 20×60 portion being a second story. The main use of this space will be a 20×20 loft in the center of the building above the kitchen, with the remaining space being storage. We are trying to figure out what a necessary side wall/eave height will have to be for this second story loft with a 4/12 pitch roof. We don't mind sacrificing a little bit of headroom upstairs since it will be a playroom for the kids. Could you help us with this? Also, this is assuming that we have an 8' kitchen ceiling underneath. Thanks! NATE in TULSA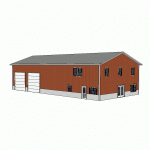 DEAR NATE: Thank you for reaching out to me. In most instances it will be less expensive to add more square footage on main level than to create a partial loft space (not to mention no space wasted due to stairs). Here is a guide to creating appropriate eave heights: https://www.hansenpolebuildings.com/2020/05/how-tall-should-my-eave-height-be-for-two-stories/.
I would recommend you take advantage of our very affordable floor plan service in order to assist you in creation of your ideal dream floor plan: http://www.hansenpolebuildings.com/post-frame-floor-plans/