Reader CAROLYN in INDIANAPOLIS writes:

"How tall are barn homes? I didn't know what height to put in…I like tall ceilings …also do u build the homes also?"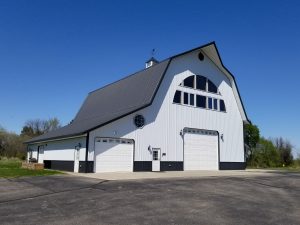 Fully engineered post frame homes and barndominiums (barn homes) are beautiful because they only limit your heights under Building Codes to three stories and a 40 foot wall height (add another story and 10 feet for having fire suppression sprinklers – a good idea anyhow). My lovely bride and I live in a post frame home with a 44 foot overall height (and a cupola on top of it). Although this article is written for two story homes it may prove helpful: https://www.hansenpolebuildings.com/2020/05/how-tall-should-my-eave-height-be-for-two-stories/.
Ideally ceiling height measures when framed should be an extra 1-1/8″ taller than your actual finished ceiling (e.g. 10′ 1-1/8″ for 10′ finished). 10′ ceilings have become very popular as well – "my" Vikings bathroom (yes has Vikings' colors and stuff all over it). 10′ is also cost effective if batt wall insulation is used and drywall can be often purchased in 4′ x 10′ sheets. Our living room ceiling is 16′ as my wife likes her tall Christmas tree, she leaves it up all year long!

This article may also prove helpful to you https://www.hansenpolebuildings.com/2021/02/a-shortlist-for-smooth-barndominium-sailing/.

www.HansenPoleBuildings.com provides fully engineered, custom designed post frame buildings, with multiple buildings in all 50 states. We ship from over 4000 locations – so chances are we are 'close' to you! Your new building will be designed for an average physically capable person who can and will read instructions to successfully construct your own beautiful building (and many of our clients do DIY).
Your building will come with full 24" x 36" structural blueprints detailing the location and attachment of every piece (suitable for obtaining Building Permits), a 500 page fully illustrated step-by-step installation manual, as well as unlimited technical support from people who have actually built buildings.
For those without the time or inclination, we have an extensive independent Builder Network covering the contiguous 48 states. We can assist you in getting erection labor pricing as well as introducing you to potential builders.
We would appreciate the opportunity to participate in your new home. Once you have them, please email your building plans, site address and best contact number to our Design Studio Manager caleb@hansenpolebuildings.com (866)200-9657 Thank you.