Building Has Metal Building Insulation
Hansen Pole Buildings' Designer Rachel received an inquiry from a client whose existing post frame (pole) building has metal building insulation.
Rachel sent this to me: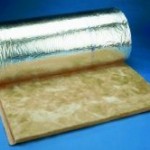 "STEVE would like some advice on insulating.  He has a Cleary Building which has blanket insulation in the walls and roof and he would like to insulate over the top of this insulation and wondered if there would be issues.   
Steve mentioned that as your standing in the building you see the white vinyl on the inside.  Is there vinyl on both sides?  If not, shouldn't the vinyl by facing the steel?
Any information or assistance you can give him would be appreciated."
Mike the Pole Barn Guru writes:
I am not much of a vinyl faced metal building insulation fan to begin with (read more here: https://www.hansenpolebuildings.com/2011/11/metal-building-insulation-in-pole-buildings-part-i/]. Even though I have it in roofs of my two older personal post frame buildings, it isn't a product I would use if I were to construct a new building for myself.
Problems would come from having insulation sandwiched between two vapor barriers.
I would do this personally –completing each wall individually, I would remove wall steel, remove  wall metal building insulation. Cover each wall with a Weather Resistant Barrier (like Tyvek) and reapply wall steel. Spray two inches of closed cell foam insulation upon the inside of the wall steel. If full wall thickness bookshelf girts were not used in the walls (flush or extending inside of columns), another set of girts should be added to the inside surface of columns. Your engineer of Record (engineer who sealed your building plans) should be consulted to determine proper size and spacing of girts. Once installed, fill insulation cavity completely using BIBs. Glue two inches of rigid closed cell foam insulation board, taping all seams, to the inside face of girts. Glue interior finish (typically gypsum drywall) to the inside of foam boards.
PBG NOTE ADDED: Hansen Pole Buildings' Designer Rick Carr aptly pointed out to me WRB (Weather Resistant Barrier) purpose would be defeated by spray foam application. Correct application should be one only, however only after metal building insulation removal.
For your roof, provided trusses are adequate to support applicable dead loads, I would install a truss bottom chord level ceiling. This would allow insulation to be blown into dead attic space. In order to achieve adequate insulation above the sidewalls, it may prove necessary to use closed cell spray foam insulation above the ceiling in areas closest to the sidewalls. If eaves have ventilated soffits, ensure an inch or more of free air space exists between insulation and roof deck (or metal building insulation). Appropriate ventilation must be provided in dead air area above insulation.