This week the Pole Barn Guru discusses adding insulation to an existing building, building a monitor style building with a large clear span main level, and a building official misinforming a potential client.
DEAR POLE BARN GURU: I currently have a 30×50 Wick building on some property which I purchased last May. The building is 15 years old. It had a white faced batt insulation rolled out over the roof and wall purlins. The building is heated with a 80000 btu forced air furnace and has a 3.5 ton 16 seer AC unit as well. The building is used as a mancave/shop for piddling on projects. The design has an open ceiling. I would like to add additional insulation at the roof deck level. I have a local insulation contractor who has good reviews come and look at it. He is suggesting adding a 4″ thick x 24″ wide WMP50 batt insulation between the roof purlins. The research I have done suggests to not lay a batt over a batt as you could create an area where moisture cannot pass through. If the new vapor barrier of the WMP50 is sealed correctly would there still be an issue? I'd like to keep the open ceiling design as I currently have a car lift between two of the rafters and need to be above raise the vehicle cab above the bottom of the lower rafter horizontal. This kills the idea of putting in an insulated ceiling thus creating an attic space. Any thoughts on what the contractor wants to do as well as other ideas how to better insulate the roof?
Thanks… DAVE in MARSHALL
DEAR DAVE: You want to avoid having two vapor barriers. Easiest solution would be to poke holes in your existing white facing often enough to not create any two vapor barrier zones, then add your new product, making certain all joints between rolls are sealed.
DEAR POLE BARN GURU: Is it possible to have a monitor style barn to use the open upper level as a living quarters and not need support legs under to keep the lower shop level open. JOE in PUEBLO
DEAR JOE: It can certainly be done, and there are a few ways to get there.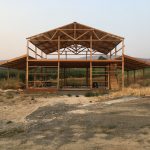 Here is how we did it for my Sales Manager, Dan, in my past life when I was a post frame building contractor. Dan wanted a 30′ x 50′ monitor style building for a garage/shop and then an office above. We had engineered a clearspan roof/floor truss combination for support of wings and second floor. This system had a double truss every 10 feet. At eight feet from each outside wall, we mounted columns to these trusses to support roof of raised center. Joists we placed for ceilings and floor system. With an 8/12 roof slope, upper level used scissor trusses with a 5/12 interior pitch.
For monitor buildings without as much front to back depth, we can design with parallel chord flat trusses used as girders and bury them in knee walls of raised center portion. This often precludes ability to have windows along upper level sides.
With post frame construction, if you can dream it, chances are good we can design it.
DEAR POLE BARN GURU: Hello, I am looking at building in Chippewa County, Wisconsin. I absolutely love the idea of doing a Pole Barn House/Attached Garage. The problem is that I cannot get an answer if I can build one in the county. The building inspector has been continually telling me that they cannot be built if the garage is directly attached.
I have attached a pdf of the floor plan for said building
Can you help with this? JEFF in STANLEY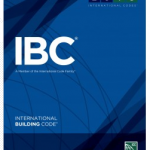 DEAR JEFF: While your pdf did not make it, there is no reason you should not be able to have an attached garage, just as you could with any other structural building system. Building Codes certainly allow for attached garages (drive through any subdivision in our country), with appropriate fire separation between it and living spaces.
If your inspector persists, please ask him or her for a written copy of whatever ordinance this advice is based upon. Chances are good there is not one, and it is based upon some personal opinion. Should documentation actually be produced, please forward to me so I can go do battle for you.