March 3-9 was National Severe Weather Preparedness week, which inspired me to outline some ways to prepare your existing pole building to withstand hurricanes. The ASHRAE Guide for Buildings in Hot and Humid Climates recommends designing and constructing buildings in hurricane-prone areas using the following steps in order of priority: keep the building from blowing away; keep the rain out; elevate the structure above the flood plain; build with materials which tolerate soaking; and design the wall assemblies to easily dry when they become wet.
The ASHRAE priorities might not be practical when retrofitting an existing pole building. Therefore consider using the Insurance Institute for Business and Home Safety's Fortified Home Hurricane Standards for upgrading your pole barn. The minimal standards for this are focused on the roof. If the roof has less than five years life left it should be replaced. If the roof is shingled and will be reshingeled (good reason to use steel roofing), the existing shingles should be removed and the new roof should comply with the following: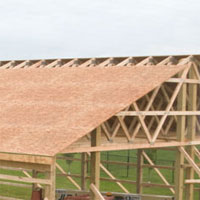 The roof deck should be a minimum of 7/16-inch plywood or OSB;
The roof sheathing should be attached with 8d shank nails spaced nominally at 6 inches on center;
The roof should be sealed with a qualified system such as a full layer of self-adhering polymer modified bitumen membrane covered with No. 15 building felt;
The drip edge must be installed and the new roof must be high-wind rated and installed per manufacturer's installation instructions.
If the roof does not need to be replaced, it can be structurally reinforced and sealed with a two-part, closed-cell, polyurethane foam applied to the underside of each roof rafter or truss.
In the event the pole building has an enclosed attic space, replacing attic insulation (or adding to the existing attic insulation system) with closed-cell polyurethane foam at the underside of the roof deck solves other problems as well. It keeps hot humid air out of the attic, therefore creating a more efficient building envelope and heating and air conditioning system.
More advanced solutions include stabilizing gable walls and installing connections to prevent uplift. All doors with glass and windows should be pressure and impact rated. If the existing opening does not meet the requirements, openings may be protected with qualified opening protection systems. This can be as simple as pre-cut 5/8-inch marine grade plywood to custom made shutters.
Other important preventive measures include keeping trees trimmed of dead wood. Dead wood is the first to become detached and a potential missile attacking the pole building house. People inside could be at great risk.