Barndominium Plans Before Land?
Unlike chicken or egg coming first, barndominium floor plans should come second, after a place to build has been determined.
Reader STEVE in MILWAUKEE writes:
"I am interested in developing plans for the barndo-square with internal courtyard. I don't have the land for it bought yet, so is it a waste of time to get started on the plans already? If the foundation will be a slab, can the specifics about the land it is going on be on be determined later? Maybe assume the land will simply be level to start? Or is the point of owning the land to make sure the building plans follow the local building code from the start?
As for making the property wheelchair accessible, I plan on having my parents move in with me eventually. They are not in wheelchairs yet, but my uncle is and I see what a hassle it is for him to get around normal houses when we have family gatherings. Plus I think one-level and wider doors and wider hallways are good things if the square footage allows.
My current situation is a ranch house with a large shed outbuilding on 13 acres, on its own well, septic, furnace fuel oil. This is just so you know I am not naively wanting the country life, it is how I grew up and how I prefer to live. I also plan to build in an area with a few good barndo-type builders, north of Milwaukee WI. So I think the entire plan is doable once I secure financing. It is my understanding that having plans in hand makes it more likely to get a construction loan.
This might be against your own interests, but do you think I should develop the plans directly with the builder I choose since I will choose a barndo-builder and not a traditional house builder? Each of their websites show that they can make the plans too. Or is it a good idea to approach the barndo-builder with general plans and fine-tune the plans with the barndo-builder?"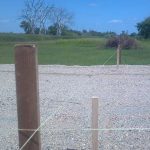 Mike the Pole Barn Guru advises:
I didn't learn much in architecture school however one lesson was your site should be determined so room orientations can be appropriate in relationship to access from roadways, any possible views, north-south orientation, slope of site, etc. Other than minimum room dimensions and egress issues, your floor plans will have little to do with Code requirements. Your structural plans will need to be generated after you have developed a floor plan and will be relevant to climactic conditions specific to your site (most often overlooked is wind exposure).
You will need to have professionally produced floor plans and elevation drawings to secure financing. You do not need structural drawings. Very few builders have an architectural or structural background adequate to prepare or provide what will truly best meet your needs. An experienced professional Building Designer should be just the ticket. You can find ours here: http://www.hansenpolebuildings.com/post-frame-floor-plans/